On August 15th, when we announced that Jesenia of Team Minions J&D, a cacher from Naguabo, Puerto Rico, was the winner of a SCOTTeVEST Featherweight Vest, we hinted in that post that we had a funny feeling we'd be hearing from her again. That is because at the time, she agreed to do a little interview with us after trying out the vest! We finally got around to sending some questions, and she was more than happy to answer them, and include some outstanding Geocaching pictures as well.
OpenCaching: How did you hear about Geocaching, and when did you start?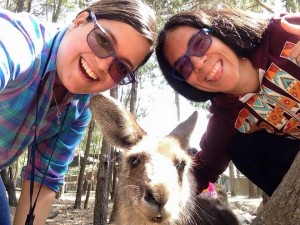 Jesenia: We love to travel around the world, so last year we moved to Australia for four months and while doing some Couchsurfing (staying with locals that offer their home to travelers through a website called Couchsurfing.com), we met this amazing Aussie family that were Geocaching addicts. When they first told us about this hobby they were super excited and kept telling us all about the game. And I was like "cool, it is like treasure hunting, this must be fun!".  It was our first time hearing the word Geocaching and they took us around Queensland to do our first caches. I remember we visited Coombabah Lake Lands where we saw a huge family of kangaroos living happily in the wild. We even got so close to them that we got some pretty neat kangaroo selfies plus some dangerous ones with poisonous snakes. During our first geocaching trip, we did so many and enjoyed it a lot. But the process of logging all the caches afterward was a bit confusing and overwhelmed us at first since we had so many to log during our first day Geocaching. We only did geocaching in Australia while we were with our friends. Then we forgot about it for a while, we kept on traveling and then we moved to Hawaii. And suddenly one day we remembered, "oh, it could be fun to do some geocaching every time we go out for a hike". We love hiking so we started to do geocaching again, but from time to time. Now that we are back in our island Puerto Rico, I want to see where geocaching takes us. We have discovered so many beautiful places we did not know existed until now.

OpenCaching: You were one of the last persons to enter our contest before the deadline and ended up winning. How did you hear about our contest?
Jesenia: Well, Jim, it is very interesting how it all happened. To tell you the truth in my search to know  more and more about geocaching, that day I was browsing for geocaching blogs around the web and your blog popped up. I started reading the blog and saw the contest. I entered the contest but not believing I could win. Then the next day I see the email that I won, and I almost thought it was a Spam. But I'm super happy to be the winner of this awesome product and that I saw your blog that day. 
OpenCaching: The temperature rarely dips below 60 Degrees Fahrenheit in Puerto Rico. We assume the vest is VERY lightweight and suitable for wearing out in a tropical climate?
Jesenia: This vest is super comfortable, it is so light you don't feel you are wearing something on top of your shirt. I actually went hiking to El Yunque Rainforest during 6 hours and I felt really comfortable wearing it. I did enjoy that it is waterproof because it rained a lot while we were hiking. 
OpenCaching: What features are the most helpful when out geocaching?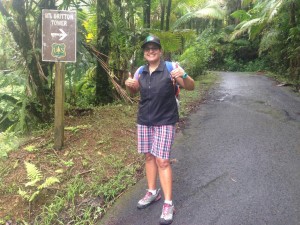 Jesenia: I really enjoy all the pockets this vest has. I think I keep discovering more and more of this pockets every time I wear it. I love the pen pocket it is very accessible and I don't have to worry about digging in my backpack looking for my pen to log the cache anymore. I also love that I can put so many swags in them, even big ones. I also carry my phone and my Monster charging battery with my cables. Another thing that I enjoy is having my keys accessible at all times with the keychain holder.  I don't even worry about bringing a backpack with me every time.
OpenCaching: Would you recommend SCOTTeVEST to other friends/geocachers?
Jesenia: I already did. I was telling my friends all about it, I was too excited to have my Scottevest. I think this is a great gift for someone you love, a friend geocacher, anyone.  It is a must if you are a geocacher and if you love traveling like me. I have plans of using this little guy a lot during my travels, I know it would be a hassle free trip. I can't wait. Thank you, Jim, and Thank you SCOTTeVEST 😀 
---
We thank Jesenia for taking the time to answer the questions, and we're sure the people from SCOTTeVEST will like the testimonial. We thank her for all the great pictures she provided for the post, as well. All but the picture with Skippy The Kangaroo in Australia feature  El Yunque Rainforest in Rio Grande, PR, and her Black SCOTTeVEST, of course. As always on this blog, click any to view in a large lightbox window.