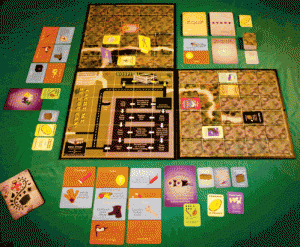 ---
The OCNA blog is about 9 months old now, and we have conducted several interviews; 22, to be exact. Many of those interviewees provide a Geocaching related product or service,  and it didn't take us long to realize that many of them are often developing new products or services, or making "improvements" to existing ones. This is certainly the case with Dan Hundycz, President of DPH Games, maker of The Cache Me If You Can! Geocaching board game. The game was featured in a June 2013 post on this blog. We noticed via ads run on Geocaching.com that the Zombie Apocalypse expansion pack (also known as Zombie Apocalypse Geocaching, or ZAG) was released October 25th, 2013 (just in time for Halloween). We noticed as well that DPH games has greatly increased their visibility, with 14 vendors now selling the game. So we decided to "Cache up" with Dan.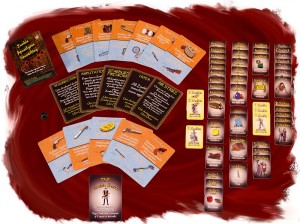 Zombie Apocalypse Expansion Pack
 Now if you think there has never been a connection between Zombies and Geocaching before, you'd be wrong. We have seen several Geocaching events combined with the social phenomenon of Zombie Walks. Sure, they're not as big as Geocaching Flash Mobs yet, but you never know.  Dan tells us of the ZAG "Earlier this year, I wasn't sure how it would be received by the Geocaching community. Our first order sold out with pre-sales. The concept resonated with geocachers." As is stated on the ZAG page on the DPH Games website, "The Zombie Apocalypse has begun! Fortunately, YOU have your priorities straight. What could be more important? It's time to grab your shotgun and go out Geocaching!" Says Dan of that humorous statement, "The response from Cachers is, of course I would continue Geocaching!"

Dan went on to briefly describe the ZAG, saying "The Zombie expansion pack adds a number of wild twists to the original game. You can even become a geocaching Zombie (and win if you are the best geocaching Zombie at the end of the game)." 

The ZAG was actually announced on the DPH Games website long before it's release, and there are currently two other expansion packs mentioned on the site. Dan tells us "The next expansion pack is in the Beta testing phase and due out sometime in the late spring. It's called Superhero Geocaching (Link to page on Dan's website). An evil doctor and his thugs (called Thuggles) are going to destroy all of the caches in the world. Captain Cache and his superhero friends are trying to stop him." We'd like to personally thank Dan for calling them Thuggles, and not Thugglers! He also noted "All of the expansion packs will work with all of the other packs. So, if one were crazy enough, they could play Superhero, Zombie Apocalypse Geocaching!" Additionally, according to Dan "There are plans for a regular expansion pack that adds another board (Back into the Woods), but that won't likely be out until next fall."

We might add, Cache Me If You Can! will not be DPH Games' only game endeavor. Dan says "Our next game is Psychological Warfare. It's a strategic card game that has nothing to do with Geocaching." You can read all about that, and see some sample cards on the Psychological Warfare page on the DPH Games website, sounds very interesting. 

We also mentioned we noticed DPH games has increased their visibilty, now with 14 Vendors selling the game, including Shop Groundspeak. Dan told us "Since we last spoke, Cache Me If You Can! has been picked up by Groundspeak's store. Sales exceeded their expectation and they are on their third order." Great to hear! You can also purchase the game online from previous interviewees, The Space Coast Geocaching store, and CacheAdvance. There is now a Canadian distributor, Cache At Night. You can see all 14 vendors on the where to buy page on the DPH Games website. And don't forget, you still have time before Chistmas!

Thanks to Dan for letting us cache up with him! We will be catching up with some of the other past interviewees in the future. None of them will probably have a clever pun using the word cache instead of catch in their blog post though! Stay tuned.