---
OCNA NOTE: CacheBlogger.com shut down in late 2014.

Paul Suggitt AKA Pilot Suggs from CacheFace.com is at it again with a new website; CacheBlogger.com, which was launched at Midnight GMT on June 28th, 2013. Twitter, of course is  referred to as a microblogging website, and CacheBlogger.com very much resembles Twitter, in both look and feel. Why a microblogging platform dedicated to Geocachers? Says Paul: "CacheBlogger was developed to compliment cacheface.com in such that geocachers have a dedicated social network AND micro blogging platform at their disposal where they can shout about their geocaching adventures, make new friends and share the geocaching love, no matter where they are on the planet. Other platforms may have the volumes of people using them in general, however the idea behind CacheBlogger (and indeed cacheface.com) is that the platforms are developed for and dedicated to geocachers so its easy to find cachers, make new caching friends around the world and even share ideas and adventures with people you have never met, knowing they all share the same passion….geocaching."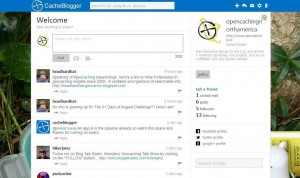 OCNA CacheBlogger feed, click to enlarge and view in lightbox
Above is the OCNA CacheBlogger feed, as it appeared on the morning of this blog post. You see some big names in Geocaching there, headhardhat and Podcacher. Hopefully Hikerjamz, also shown, will be a big name in the future! You'll notice you can type a message (shout), and upload a photo or video. There is one major difference from the Twitter website though; you get to use a maximum of 200 characters, rather than 140. Paul explains, "CacheBlogger is a micro blogging platform like twitter, and as we geocachers have a lot to shout about, I decided to set the character limit to 200 instead of the adopted 140 on other platforms."  We here at the blog agree, 60 extra characters is an excellent choice. There is a visible character counter while you are typing your post, and it "goes red" at 20 characters remaining.
Most of the other features Twitter users are familiar with are on the right hand sidebar, including the users Avatar and Bio (160 characters), a link to their "Gallery" (all the photos and videos they have uploaded to the site), the users "Mail" from other members (1,000 characters allowed!), number of posts, number of people following, and number of people they follow. There is also a "keyword search" box on the side bar. You may also link to your Facebook, Twitter and Google+ pages, as well as display your Geocaching.com stats banner, all of which are chosen under "settings" on the top banner, which is explained below in the next paragraph.
General Settings screen, click to enlarge and view in lightbox
The stationary blue top banner or frame (seen in either of the two screen shots posted) contains a "people or places" search box, as well as several links on the right hand side: My profile, Mentions, Messages, Settings and Log Out. Shown is the settings page, when you can upload your profile image, including the option of using the globally recognized user avatars provided by the website Gravatar.com. There are also some background image choices for your page, and boxes to add the links to the social media sites, as well as one to paste the URL for your Geocaching.com stats banner. Of course Opencaching North America itself doesn't have a Geocaching.com stats banner. Which brings up a good point, although we are not, some Geocaching websites are commercial entities, and there are may other commercial entities who sell Geoaching goods and services. According to Paul, "Geocaching companies can also create accounts on CacheBlogger and use it to blog about their SWAG etc. and gain a following to their products and services."
CacheBlogger.com couldn't be easier to figure out, and if you've spent any amount of time on Twitter, there is almost no learning curve at all, you'll be set up and running within minutes. We wondered how long CacheBlogger.com was in the works, seeing as it was released about nine months after it's sister site, CacheFace.com. Paul replied "The idea for CacheBlogger came not long after I started developing CacheFace.com so I decided to press on with the development and launch of CacheFace first, and then concentrate on developing CacheBlogger. This way, each project got full attention. I wanted to give the global geocaching community a dedicated set of platforms to interact socially where they can share their adventures and love of caching with other geocachers."
From a technical standpoint, Paul informed us that like CacheFace.com, CacheBlogger.com runs on a dedicated server, is secured by 256 bit SSL encryption, and was written by himself in PHP. Also, like CacheFace, you can "share the adventure while you are on the trail as CacheBlogger is fully mobile enabled", said Paul. We at the blog can attest to the fact that the mobile versions of both CacheFace.com and CacheBlogger.com work flawlessly. Paul thought it very important to release them both with fully functional mobile sites. Of course Smartphone apps (iOS, Android and Windows Phone) are in the future for both websites as well, stay tuned.
As mentioned on the about CacheBlogger page the site is free, and always will be. That page, incidentally, is an excellent overview of all the features of the site, we couldn't cover everything in this post. So give CacheBlogger a try! It's only three weeks old, you can say you got in very early on something big! And if you haven't already, consider joining it's almost one year old sister site, CacheFace.com. Thanks to Paul for answering a few questions, and providing the CacheBlogger.com banner.