Contest starts in three days!
The Official entry forms for our August 2015 5th Anniversary Contest are now available! Powered by Google Forms, you can view it here. This form is printer friendly. Feel free to print one out to fill out by hand for reference as you go along in the contest. And we have also stated that we will accept legible, handwritten and scanned entry forms emailed to us at the conclusion of the contest. You can also submit your form to us now, and save it for later editing as you go along online! The process for doing so is admittedly not as simple as we would like, but we will outline it below.
Submitting and saving the form online for later editing:
Here are instructions for doing so:
Fill out the three mandatory fields at the top of the entry form (Player name, Your email address, and "Enter the total raw score you are claiming for the month"). You'll have to just "make up" a raw score the first time. Scroll down to the bottom of the form and hit the Submit button. You should now see this page below on your web browser of choice: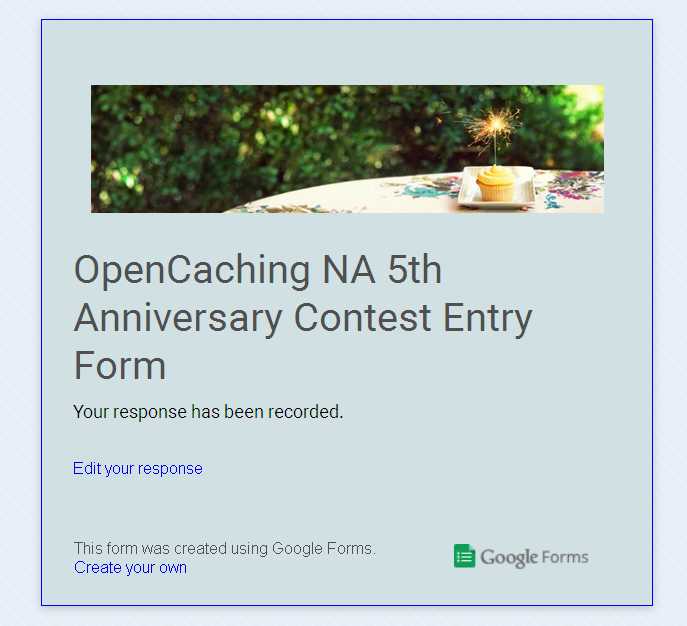 Next, click on the "Edit your response" link, as shown above. After that, bookmark the page you are taken to! You should now be able to update your entry form from that bookmarked page as you go throughout the month. Be sure to hit Submit at the bottom every time you edit it.
Sponsors/Prizes Page released also.
We have completed the preliminary OpenCaching NA 5th Anniversary contest Sponsors/Prizes page as well, found at https://www.opencaching.us/articles.php?page=2015prizes. Note from that page that our prizes are not finalized yet, and probably won't be until sometime in August during the contest. That page is the place to look for finalized prize info. Check back often!
The only two links you'll need:
We've had two blog posts releasing info and details about the contest, as well as releasing some via social media outlets, and via the "news" section on the main page of our website. Everything you need or need to know for the contest can now be found on two pages on our website:
Are you playing? Let us know, and let's talk about it!
The way this contest is set up, we won't really know exactly how many people are playing until it's over. We do expect some people to follow the "not as easy as we would like" instructions to fill out their entry forms early, and keep their scores on the fly, but certainly not everyone. So we invite anyone who is playing to tell us about it at a thread we've created under the Geocaching sub forum in our forums. We admit that like many old fashioned forums on the internet that ours isn't very active (they say Facebook is to blame), but hopefully this will be an active thread. Enter the contest, and please consider chiming in over there. Good luck, and we hope to hear from you!