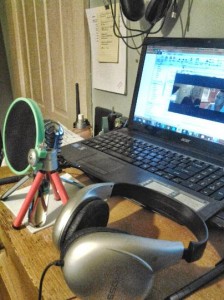 Our old friend, and "guest blogger" to this blog, HikerJamz has launched a second weekly show! That would be After-Cache, which is a pre-recorded show, and generally released on Sundays, on Spreaker.com. The first show was released on  Sunday, June 21st, and the 2nd show is up on the website right now! Best to go right to the source, correct? Here is an explanation of the show, and how it works, quoted  from HikerJamz himself:
"Hikerjamz After-Cache Radio Show is a new podcast show that I have just released 6/22/14 on Spreaker.com. Different than Blog talk radio show, this one will not have an option for live callers. The show is all pre-recorded from my Audacity program and uploaded to the studio on Spreaker.com and will run for 45 minutes every Sunday around noon, and will be available to listen soon after. The first episode explains how it works. You can e-mail me at radiotalkshow2013@gmail.com and tell your story or adventure of your favorite caching experience of the week or weekend, and I will read it on the air; or you can go to speakpipe.com/hikerjamz and record a voice message to be played on the air. There is only a 90 second recording time so if you need more time, just send what you have and record again to continue your story. I need to have the e-mail or recording by 10 pm. Friday night eastern (New York) time so I can have it ready to go on Sunday. If you miss the time, it will go on the next weeks show. This is a family friendly radio show so let your children participate also. They enjoy geocaching, so I want to include them in this as well and I'm sure they would have some exciting adventures to share! So check it out by listening to my first episode here www.spreaker.com/user/hikerjamz and join in on the fun! My Blog Talk Radio Show will still continue, but I dropped it down to 45 minutes instead of 1 hour."
So please do check this show out! You can contribute via a "voicemail", or via email. The OCNA blogger himself made a contribution via email to episode 2 (near the end). And remember, the "original" HikerJamz show is not going anywhere, it has just been cut down to 45 minutes from an hour. And of course you can check out the archived episodes of that show right here on this blog, as always.