On August 15th, when we announced that Jesenia of Team Minions J&D, a cacher from Naguabo, Puerto Rico, was the winner of a SCOTTeVEST Featherweight Vest, we hinted in that post that we had a funny feeling we'd be hearing from her again. That is because at the time, she agreed to do a little interview with us after trying out the vest! We finally got around to sending some questions, and she was more than happy to answer them, and include some outstanding Geocaching pictures as well.
OpenCaching: How did you hear about Geocaching, and when did you start?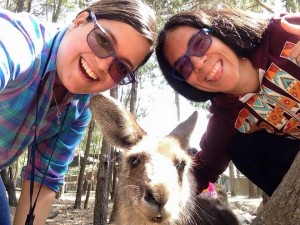 Jesenia: We love to travel around the world, so last year we moved to Australia for four months and while doing some Couchsurfing (staying with locals that offer their home to travelers through a website called Couchsurfing.com), we met this amazing Aussie family that were Geocaching addicts. When they first told us about this hobby they were super excited and kept telling us all about the game. And I was like "cool, it is like treasure hunting, this must be fun!".  It was our first time hearing the word Geocaching and they took us around Queensland to do our first caches. I remember we visited Coombabah Lake Lands where we saw a huge family of kangaroos living happily in the wild. We even got so close to them that we got some pretty neat kangaroo selfies plus some dangerous ones with poisonous snakes. During our first geocaching trip, we did so many and enjoyed it a lot. But the process of logging all the caches afterward was a bit confusing and overwhelmed us at first since we had so many to log during our first day Geocaching. We only did geocaching in Australia while we were with our friends. Then we forgot about it for a while, we kept on traveling and then we moved to Hawaii. And suddenly one day we remembered, "oh, it could be fun to do some geocaching every time we go out for a hike". We love hiking so we started to do geocaching again, but from time to time. Now that we are back in our island Puerto Rico, I want to see where geocaching takes us. We have discovered so many beautiful places we did not know existed until now.