You'll note the phrase Guest Blogger is in quotation marks in the post title. There's a reason for that, which we'll get to shortly, after a little background information. When this blog was in the planning stages, we thought it might be pretty easy to lure guest bloggers into the fold, and we even mentioned it in the very first post. That wasn't really the case, in the classic sense of guest blogger, meaning getting people to write posts on a certain topic. So not too long ago, we had noticed that an older, much more well known Geocaching Blog has the owner of a very popular Geocaching Video Youtube channel as a guest blogger. In other words, all the Geocaching videos he makes and posts to Youtube are embedded into a new blog post on that blog, and the videographer is considered a "guest blogger". Well, imitation is the sincerest form of flattery. A light bulb went off in our heads, giving us the idea that we too could pursue "guest bloggers" from an audio and audiovisual perspective. We have reached agreement with not one, but two Geocachers in the audio and audiovisual Geocaching community to embed their content into this blog as guest blog posts! This will almost triple the content of this blog. We too will be embedding the content of a Geocaching Video Youtube channel, but we'd like to introduce the owner of that channel with an interview within the next couple of weeks. The other guest blogger, whom we'll call Guest Blogger number 1, has already been introduced to the readers of this blog via an interview, so we will announce our relationship with that Geocacher, who is in the audio spectrum, right away.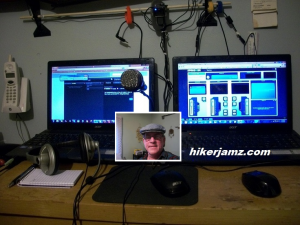 ---
We are very happy to announce that we will be embedding the archived shows of The HikerJamz Geocaching Talk Show as posts to this blog. HikerJamz started this show right around the same time we stared this blog in March, 2013. The show is co-hosted by Kenny Gibb, and airs live at 3:00 PM Eastern Standard Time on Saturdays. The archived shows are generally available as soon as the show ends, so we should get them up every Saturday without fail. We may even try to get fancy, and embed them automatically using his show's RSS feed. We'll see how that one goes. The first show as a guest post, dated Saturday, August 24th will be embedded immediately following this blog post, although we will back date it to that date, so this post shows up "ahead" of it. We are very excited to have HikerJamz and Kenny on board!
If you listen to the show, you will hear the first ever ad for the OCNA blog, and a couple references to the blogger himself, who was expected to call in, but didn't make it, as it was the day of the Birthday party for his two Children. Not Grandchildren mind you, he's two young for that! (Hopefully). We already had a little laugh with HikerJamz on that one. Enjoy!