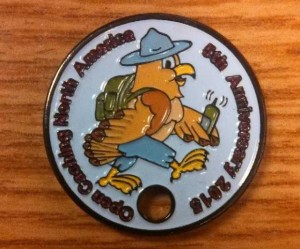 After many delays, The OpenCaching North America 5th Anniversay Pathtag has finally been manufactured, and is on sale now! They can be purchased in lots of 20 for $20 from TheGeocoinStore.com under a "club fundraiser" program. You'll note the page for our tag on their website references us receiving $5 for every 20 pack sold. However, that applies only to registered non-profit LLC's, one of which we are not (although we have, and still are considering, that legal status), so that $5 is payable only in Pathtag cash. The OCNA team will of course use this Pathtag cash to buy more of our own tags, which we will generously distribute to promote the website.
We will give you an example of that generosity right now. How about we give away 10 of them? Not to one person though, lets spread them around a little bit. We will have three separate winners. The 1st prize winner will receive 5 of our Pathtags; the 2nd prize winner will receive 3 of our Pathtags; and the 3rd prize winner will receive a paltry 2 of our Pathtags. These tags feature the OCNA Mascot Hank The Hawk, and were designed by Nancy of Deadliest Cachers, who also is the designer of Hank himself. They also feature the "free" OCNA Pathtag back that anyone can use for their tags (approved by Pathtags.com October, 2105), which, you guessed it, was designed by Nancy. We are very happy they have finally been produced. If you don't win any, you can always buy some. And remember, people love to trade for Pathtags, and "traders" who don't even use our site, have bought packs of both this 5th Anniversary tag, and our 1st Edition tag from 2013.
To enter the Pathtag giveaway, fill out the form below with your name (as it says, "Geonick" is fine), and a valid email address. Entering as "Geonick" is indeed funny, but someone did it for one of our contests already, so it would be less funny this time. We will never use your email address, and the Google Document storing all the entries will be deleted after the contest. There are rules, of course, which appear below, in italicized text above the entry form.
Rules: To enter, provide your name and email address in the form below. One entry per person, and one entry per email address. There are no Geographical restrictions, contest is open to anyone in the world. The contest begins upon publication of this blog post on Friday, February 12th, 2016, and ends at 7:00 PM Eastern Standard Time on Sunday, February 21st, 2016. Three winners will be chosen at random from the entries received, shortly after the end time of the contest, using the services of the website random.org. Winners will be notified via email, notification being sent from the email address opencachingnorthamerica at gmail.com (be sure to check your spam folders!), and must respond within 48 hours, or the prize will be forfeited, and another winner will be chosen. Once the prize is accepted, you must provide a valid mailing address, and the prize will be sent out via the U.S. Postal Service .
---
 Contest ended, entry form removed!