---
Above is the promotional video for Monster Cache, a virtual Geocaching game for GPS-enabled iOS and Android devices. It's a very easy game to game to play! After downloading the free app and creating an account, you're ready to grab your net, and start catching Monsters. The Monsters are located at millions of randomly generated Waypoints in the Continental United States and Western Europe, and, for all practical purposes, YOU are the net (your current location). You then go to the location of a Monster, position your net over it, and capture it. You can progress through different levels of play, there is a leaderboard, and you can earn badges.
Eric Barr is the creator or Monster Cache and President of Lanitek Software LLC, of Olathe, Kansas. He was nice enough to take the time for one of our question and answer type interviews, and generous enough to give away 300 Monster Coins to a lucky reader of this post. These can be used in the Monster Cache store to buy additional nets, or binoculars (more on those later). Obviously you'll need a Monster Cache account to claim the prize, and have to reside in the U.S. or Europe. Complete rules and entry form at the bottom of this post. On with the interview!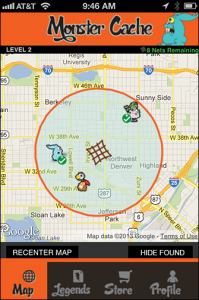 OCNA Blog: Tell us a little about where you got the idea for Monster Cache, and why you choose to create a Geolocation game, so to speak.
Eric: I've been interested in maps my whole life. I like riding my bike and I used to enjoy coming home from my bike ride, pulling out my city map, and highlighting the route I rode. So when smart phones came out, that changed to using location-tracking workout applications that mapped your route for you. And I was intrigued by all the location based applications on smart phones.
As a software developer, I became interested in creating my own location-based application. I knew I wanted it to be similar to geocaching, with a Google Map that showed places that a person needed to go to find something. My brother, Matt Barr, is an illustrator and is great at drawing strange creatures, so I thought those would be fun to create and have people find. So that's how the idea evolved.
OCNA Blog: You can currently only play Monster Cache in the 48 contiguous United States, and certain Countries in Western Europe? Any plans to add more?
Eric: We just recently generated monsters on all of the Hawaiian islands, so now its 49 states! Considering Alaska's huge size and low population though, we don't plan to spread monsters there. Next planned country is Japan.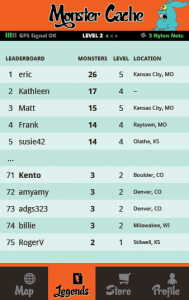 OCNA Blog: The game is pretty straightforward, you are the net, and you position it over the Monster to capture it. But some monsters are harder to catch than others? How does that work? Are the higher level Monsters generally the ones that are harder to catch?
Eric: All the monster locations are randomly generated, and the range of the net is the same at all levels. So monsters shouldn't be any more difficult to catch at higher levels from that standpoint. There are about twice as many Level 1 monsters as any other level though. So it is true that it in general it should be somewhat harder to find monsters at Level 2 and higher.
OCNA Blog: On the HikerJamz Radio Show, you mention starting out generating 3,000,000 level 1 monsters, for the 48 contiguous United States, but it wasn't enough?
Eric: That's right. Our goal was that the player should be able to see a Level 1 monster in their view range no matter where they are. Given the size of the view range, we first tried to see if one monster per square mile in the contiguous U.S.would be enough. So we generated 3,000,000, about the number of square miles in the contiguous U.S. Due to the random generation, there ended up being more bare spots on the map than we would like. So we generated more. Then more again later. As it currently stands, there are 4483316 Level 1 monsters in the 48 states.
OCNA Blog: There doesn't appear to be too many Monsters on private property; they tend to be right on the street or in Parks, Cemeteries, and along trails, to name a few. Did you purposely program this into the Monster generating algorithim?
Eric: No, they really were placed totally randomly. But it's true that in urban and suburban locations, most monsters are accessible. For one thing, I think there is just more public property in urban and suburban settings than you might think when you consider all the places you mentioned. But second, we purposely gave the nets a long enough range so that even if a monster is on a small private lot, you could still catch it from the street. Unfortunately, in rural areas, farms represent large expanses of private property, so there are more inaccessible monsters in rural areas.
OCNA Blog: As the game grows, more Monsters will be captured. Any plans to generate "replacement Monsters" for the ones that are off the map?
Eric: Its certainly possible that we could generate more monsters, or more treasure chests, or other items, similar to the treasure chests. But also, as long as you haven't made it to Level 10 yet, there will always be more monsters that appear when you make it to the next level.
OCNA Blog: Your website shows 6 Monsters, and the monsters are categorized into various levels (1-10). It also states there are "30+ more Monsters". Is this secrecy of what all the Monsters are intentional?
Eric: Yes, it is! We want there to be some surprises as you progress in levels. We like the idea of people not necessarily knowing what's at the next level, then being able to just see a small icon on the map, and then finally only seeing the large picture and description once the monster is caught. Our monster "group shot" shown on the web site and our Facebook page shows a handful of other monsters, but still well over half are only shown in the game.
OCNA Blog: Speaking of levels a player can obtain, how does a player advance through the levels? Is level 10 the highest possible level? If so, are there any plans to add levels?
Eric: To progress a level, you have to find a certain number of monsters that are at your current level. In other words, when you're at Level 1, you have to catch 3 Level 1 monsters to reach Level 2. When you are at Level 2, you have to catch 5 Level 2 monsters to reach Level 3. The number you have to catch at a given level gradually increases.
Level 10 is currently the highest level. As of now, it has been reached by only 4 players out of hundreds: Whopper, Judge, Karl, and tigerlily. Rather than add another level, I think we're more likely to add new monsters at existing levels. But you never know….
OCNA Blog: A player can earn badges in Monster Cache (The blogger currently has 3). I don't see a list of those anywhere either. Also intentional secrecy?
Eric: Correct. We've considered hinting at a few of them on the web site, just like we do with some of the monsters. But also, once you earn a few badges, I think you can get an idea of other possible badges that can be earned. So we do like keeping it a little mysterious.
OCNA Blog: Would you consider Monster Cache to be a free game to download and try, but "pay to play" after that?
Eric: Yes, that's accurate. I really like giving people the ability to try the game before buying it, so I wanted it to be a free download. One option to generate revenue is advertising, but we didn't like that idea for many reasons. For just one reason, Simple & Stout provided such a great design for the game, we didn't want to have to display advertising images next to it that we couldn't control. Paying to play after a trial period is a common model and seemed right for us. Of course, you can also get coins by referring friends, so if you make enough referrals, you can play quite a while without making a purchase.
OCNA B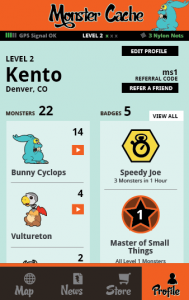 log: You can only see Monsters on the map within a one mile radius of your current location. Binoculars increase this radius? Once you buy them, do they last forever?
Eric: Yes, binoculars will last forever. And by the way, we keep track of all purchases like that on our server, so even if you switch devices, your nets, coins, binoculars, etc. will travel with your account when you log in on another device.
OCNA Blog: There certainly are many disclaimers in the app that tell you you should not play Monster Cache while driving!
Eric: That's true. We realize that it can be tempting for a person to have the app open while driving, but we want to strongly discourage that. There are plenty of other ways to play without using the app while driving. You can have a passenger navigate to a monster while they have the app open. You can note a monster's location, close the app, drive near that location and stop before opening the app again. You can walk from a good starting point that is near one or more monsters. Lots of other options, so be safe!
OCNA Blog: Do you have any major future plans for MonsterCache?
Eric: Right now our plans are mostly for promotions. And as I mentioned, we hope to spread monsters to Japan soon. Our next release will probably concentrate on catching up with recent big releases from Google and Apple: Android 4.4 (Kit Kat) and the upcoming iOS 8. Then possibly another release with some new features after that.
Thanks for the interview!
---
Thank you, Eric, great job with it! It's a fun game, your blogger thinks most Geocachers (and Munzee players, for that matter) would like it. He is No. 30 in the world as of the publication of this blog post! We have several links for our readers, then below that is some general info on the contest, and the official rules. Good luck!
To enter the Monster Coins giveaway, fill out the form below with your name (as it says, "Geonick" is fine), and a valid email address. We will never use your email address, and the Google Document storing all the entries will be deleted after the contest. The winner will receive 300 Monster coins, which is most often used (when purchased by players) for the binoculars (which greatly increase the number of monsters you can see on the map), and 25 additional nets for catching Monsters; although you can use them anyway you choose in the Monster Cache store. Note also that the contest is open to all of Europe, although Monsters do not appear in every Country in Europe yet. Need to know before entering? Ask us. There are rules, of course, which appear below, in italicized text above the entry form.
---
Rules: To enter, provide your name and email address in the form below. One entry per person, and one entry per email address. Contest is open to residents of The United States and Europe, Including The United Kingdom and Ireland. The contest begins upon publication of this blog post on Thursday, June 12th, 2014, and ends at 7:00 PM Eastern Standard Time on Sunday, June 22nd, 2014. One winner will be chosen at random from the entries received. Winner will be notified via email, notification being sent from the email address opencachingnorthamerica at gmail.com (be sure to check your spam folders!), and must respond within 48 hours, or the prize will be forfeited, and another winner will be chosen. You must have an account with Monster Cache to receive the prize. Once the prize is accepted, you must provide your Monster Cache username, and the prize will be credited to your account by Lanitek Software, LLC .
---