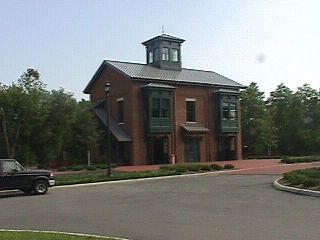 Xenia Station, hub for 5 bike trails
As mentioned in the last post, the Blogger recently went on a little Road Trip to the great State of Ohio, where he attended Midwest Geobash 2013 in Wauseon, Ohio. That was not the focus of his trip, however, and he spent only about 2.5 hours at the event, and most of that finding caches and capturing Munzees. Zero of which, for either game I might add, were very challenging! After the event, the Blogger, and his two traveling companions (his 13 yr. old son and 14 yr. old nephew), headed 3 hours south to the greater Dayton, Ohio area, for a two day stay at Wright-Patterson Air Force Base, where he hoped to find some of the 16 Opencaching.us listings in the greater Dayton area, with a focus on Ohio's First Dead Drop!!!, the sporadically featured cache.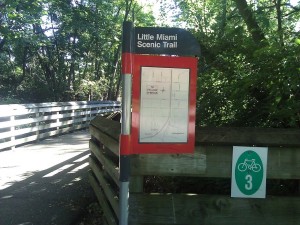 Little Miami Scenic Trail, one of the five
The Dead Drop Cache is located in The City of Xenia, Ohio (ZeeNeeUh), 12 miles SE of Downtown Dayton, and very near Xenia Station (pictured in the paragraph above), a hub for five bike trails. The building is a replica of the City's 1880's Rail Station, not original, but is very nice, and has a lookout tower you can visit. Shown to the right is one of the five trails, The Little Miami Scenic Trail, with a bridge over Shawnee Creek. The City of Xenia touts itself as "The Bicycle Capital of the Midwest". The slogan is even on one of the water towers in town, which I later visited for an Opencaching.us listed cache. You can read about the five trails on the Xenia Station wikipedia page.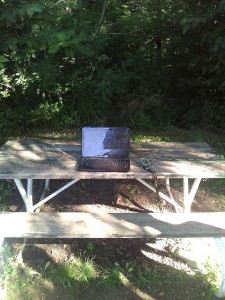 Required caching equipment
Some of you may have read this far, and are still wondering "what the heck is a Dead Drop?" They are probably more commonly known as a USB Dead Drop, and they are computer USB Flash Drives hidden (sometimes in plain site) in public. We at OpenCaching North America have only adapted the concept to Geocaching; the world-wide peer to peer file sharing network was invented by German Media Artist Aram Bartholl in October, 2010, and he maintains the official website. The concept of public USB Dead Drops is not without controversy though; anyone can intentionally or unintentionally infect the flash drive with Malware such as a trojan horse or keylogger, for example. The flash drive itself could become corroded from the elements, and short out your USB port. We at OCNA feel our Dead Drop caches are much safer then the public Dead Drops, at least from the standpoint of receiving Viruses or Malware, as the drive will typically only contain two text files, a "readme" file, and the log. This is outlined in the article on that cache type in our OC Wiki.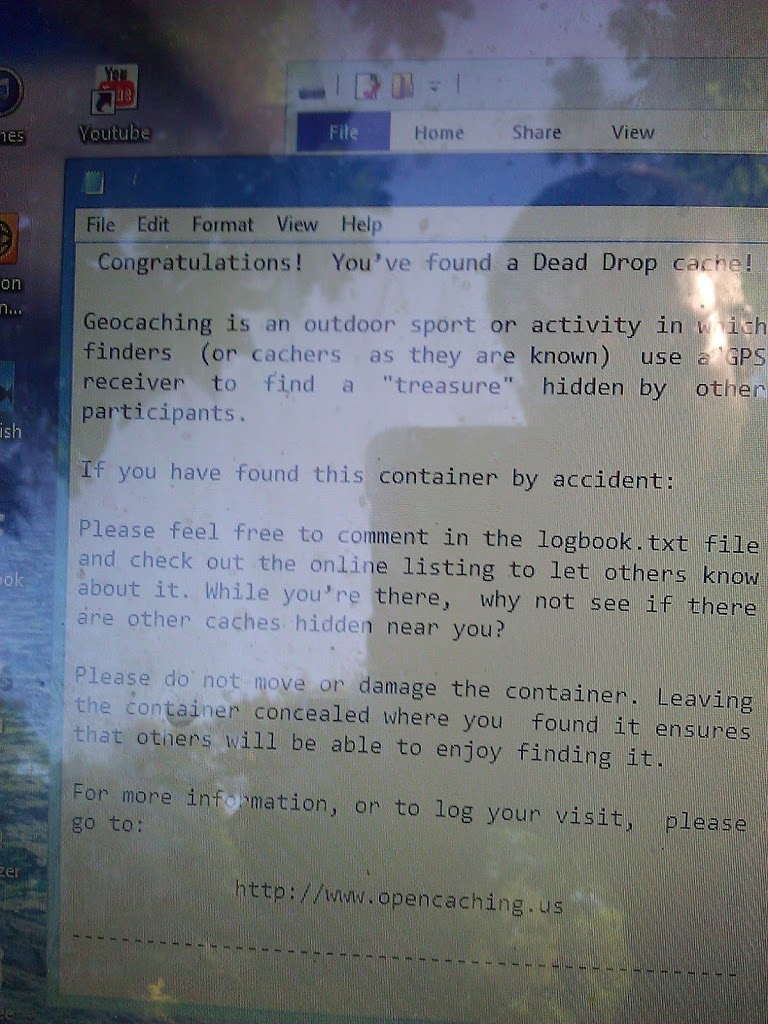 The readme.txt file on the flash drive
Ohio's First Dead Drop!!! was placed on September 1st, 2012 by username Bernoulli on our website (Bernoulli and family on Geocaching.com). We asked him how he first heard about our website, and what he liked about it. Of course he couldn't remember exactly where and how he heard about it, but he had a lot to say about what he likes about the unique cache types available on our website: "I spend a lot of time outdoors in the woods and on the rivers but I also have a young family who is into everything so I get busy and can usually just work it in when I can. That's where virtuals and other cache types come in – I love taking the family to interesting places that others should see but I can't always place a physical cache there because of restrictions, as there should be. Both the Hocking Hills Region of Ohio as well as the Red River Gorge of Kentucky fall into that category and Earth Caches are OK but it's hard to get confirmation that someone was there. You can't require a photo anymore with EC's and there is no option for some sort of required code to prove you were there. With the "numbers mentality" of many cachers, it wouldn't be too hard to fudge a log to some of those EC's and I hate having to delete logs. With OCUS virtuals, I can require a picture and a confirmation code that can only come from being there. Caching is about the journey anyway, so virtuals make perfect sense". We agree! Did you know that about 97% of Geocaching.com accounts were created after they stopped accepting virtual caches? We are happy to allow this cache type, and, contrary to popular belief, we rarely, if ever, receive any "lame ones".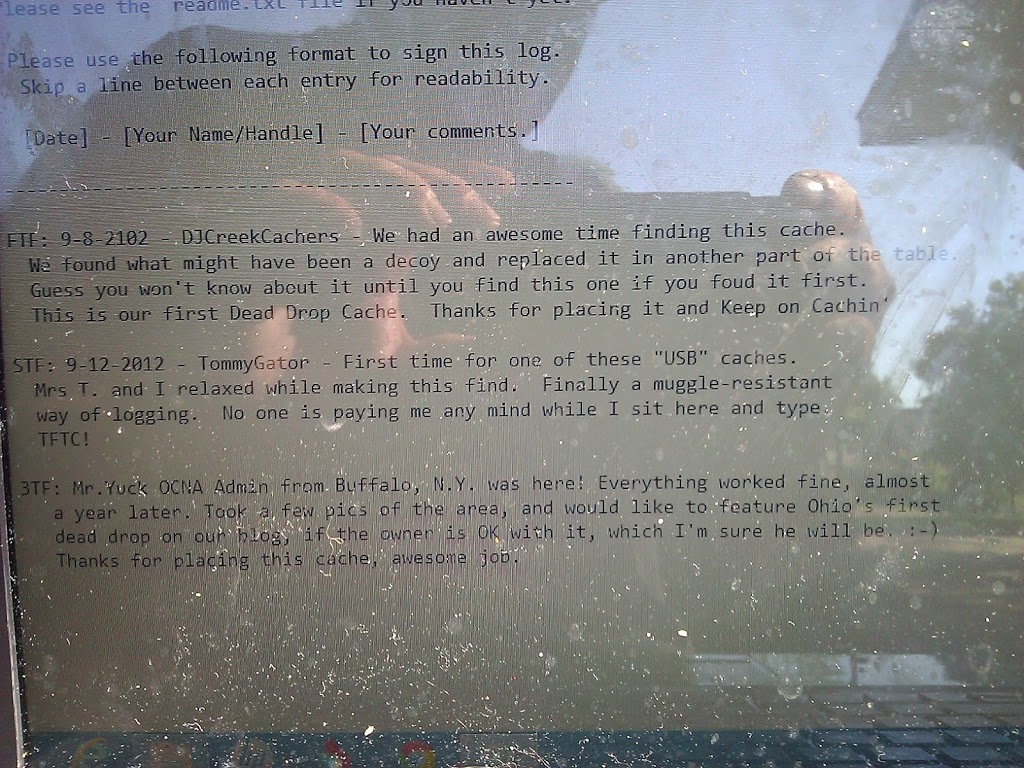 The Blogger's find log; ignore the fact he forgot to date it
Well, the Blogger and his traveling companions arrived on site at Xenia Station, and found the cache relatively quickly. We would say we consulted the hint, but the "hint" was pretty much on the cache page in plain text. We did sort of need it, the USB Flash Drive was extremely well-hidden to the casual passer-by, and we did have some difficulty locating it before consulting the cache page on the GPS! On the left, you see the Blogger's find log on the computer screen. Complete with a reflection of him taking the picture of it, in the 9:30 or so AM sun. It almost looks like it's supposed to be the background image on the computer, doesn't it? P.S., ignore the fact that he forgot to date it. :-).
An excellent cache, in an excellent location, near the hub of five bike trails. And a unique cache type, which is only available on Opencaching North America. How could you possibly go wrong here? Thanks to Bernoulli for placing the cache, and congratulations for being the second Sporadically featured OpenCachingNA Cache on the Blog.