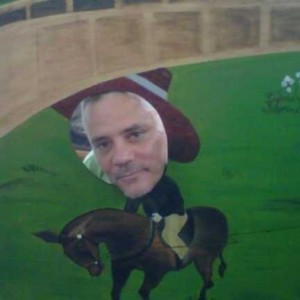 It's a Mule, not an Ass
That really is Mr.Yuck, AKA Jim, the OCNA Blogger, at a photo opportunity available at one of his own caches, which is listed exclusively on the Opencaching North America websites. That would be this cache at the Erie Canal Museum, in Lockport, N.Y. This is what we call a guestbook cache, where you sign the guestbook at a museum (in this case), or just about any tourist attraction you can think of. You could also use it for a trailhead register, or even a summit register at the top of a mountain. The blogger has made the high point of Ohio a guestbook cache on opencaching.us, for example; although technically a summit register, it's admittedly not too much of a hike for that one! It sits on the grounds of a Technical High School, which was formerly a cold war era Air Force Installation. Anyways, you can read more about this cache type on our OC Wiki, which is not a wiki in the traditional sense, as it's "closed", but there is a wealth of information about our website there, including the many unique cache types we offer. Please check it out.
So yes, we're heading out on the road! We will be attending what is often touted as the World's 2nd largest Mega Event, the Midwest Geobash, which has made it's permanent home at the Fulton County Fairgrounds, in Wauseon, Ohio, in the extreme NW part of the State. Geocachers Unlimited is hosting a little "event within the event", Geocachers Unlimited Meetup @ The Mega II which is listed on our website, as well as being cross-listed on other alternative Geocaching websites Terracaching.com and GPSgames.org. Check us out if you happen to be at MWGB!