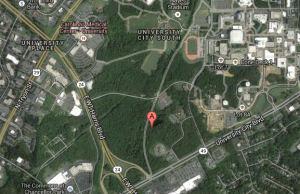 ---
We have a very unique cache listing for this installment of the sporadically featured OCNA cache; this cache was originally placed in early March, 2001. Which was less than ten months after Geocaching was invented, and almost ten years before our website was launched! The cache is located in Charlotte, North Carolina, near the campus of the University of North Carolina at Charlotte (parts of which can be seen in the upper right corner of the Google Sat View above). To find out more about this cache, and why it's so old, you'll have to read beyond this conveniently placed page break.
The cache in question, named The Truth Is Out There, was archived on Geocaching.com on August 12th, 2002, and never picked up by it's owner. It is no longer eligible to be listed there, as there are not one, but two Geocaching.com caches within 528 feet of it's location, as seen here in a nearby caches search. (By the way, we'd like to insert a plug here that we have only a "300 foot rule" on the OCNA website). It was found (more than 10 years after archival), left in place, cleaned up, and listed on our website by TermiteHunter, the 3rd most prolific cache hider on the OCNA website.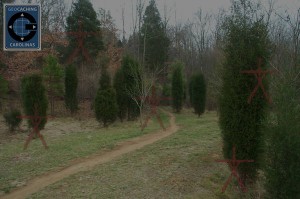 The path to the cache (with Blair Witch figures)
We wondered how TermiteHunter even knew about this archived cache, and why he suspected it might still be in the woods. He says "There had been some discussion in our local club, the Greater Charlotte Geocaching Club, (GCGC Charlottegeocaching.com) about finding old caches from the early days of caching. We had talked about the style of the Old Guard cachers especially in reference to NC's oldest cache Octopus Garden and another, Lara's Tomb. While perusing the profiles of some of these original cachers in the area, I took note of their archived caches. The Truth is Out There logs mentioned that the cache was chained to a tree. There was no mention that it had disappeared or been removed before archival in fact it had been found by accident by another cacher after archival so I set out to find it." The blogger doesn't think this is too unusual, seeing as similar situations have been discussed on his own local forums. For example, many of us in my area speculate that The world's 62nd placed cache, which is in our area, was never removed after archival. And I'm sure such conversations have taken place on local Geocaching forums all over the world.
This story gets even better though. Although The Truth Is Out There was originally placed as a traditional cache, it was adopted out to another cacher in January, 2002, and was changed to a multi cache, and the first leg was nowhere to be found! Says Termite Hunter "I thought that the cache may not be all that far from the starting point but all I had to go on was that it was chained to a tree. I searched the area trees expecting that I could avoid the nearby path and low lands subject to flooding. I spotted it from some distance away. It was a thrill like finding my first cache. This thing had been abandoned for years waiting to be found again. I came prepared to clean it out if I should find it. The cache is a tool box with a tray inside. The contents of the tray were mostly ruined by ants that had made it their home and the bottom of the box was full of water and rotted goo. I cleared it out and placed my new items and log in the tray. I managed to salvage several old City of Charlotte token coins that were around during the caches' heyday. I kept a few and gave a couple away when telling my story to Geofriends."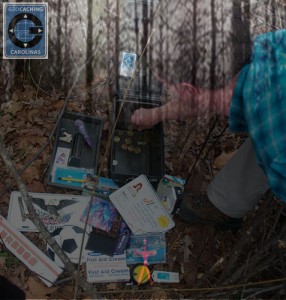 The Cache (with more special effects)
The Blog has received permission from Geocaching.com username adventuretom to use the previous photo, and the one to the right for this post. Obviously, he's fluent with photoshop, and there's a Blair Witch Project thing going on, both in his find log photos, and on the original cache page. We didn't ask. But as we said, Termite Hunter went out ten years and two months after the archival date and found this cache, cleaned it up, obtained coordinates, and decided to list it on OCNA with the same name, The Truth Is Out There. He tells us "I Joined Opencaching.us right after DudleyGrunt posted about it on the GCGC forum. I quickly went out and hid several caches on the site at my favorite park and have promoted OCus, now OCNA, at every opportunity. After finding The Truth is Out There I knew exactly where I would be listing it, hoping that giving others the chance to find such an old cache would be another way to promote OCNA. The decision was really made for me since newer caches now occupied the .1 mile area around the cache and there was no way to move it being chained to a tree preventing submission of a new listing with Geocaching.com."
It is important to note, that Termite Hunter posted a note on the original Geocaching.com listing saying the cache is still there and being cared for, and if the owner wants it back, he can reclaim it at any time. We at the Blog think this is a pretty darn good idea, reusing an abandoned container sitting out in the woods, what has become known in the Geocaching community as "Geotrash"; an abandoned container that has not been removed. We don't see how anyone could have a problem with it. If you are a long time user of one of the alternative Geocaching websites, such as Terracaching.com here in the U.S., I'll bet you've seen this happen before. If you have, feel free to comment on this post, we're always looking for comments here at the OCNA Blog. Or you could even comment on our new Desert scene banner. Congratulations to Termite Hunter for being the owner (sort of) of the 3rd sporadically featured OCNA Cache. Great job!