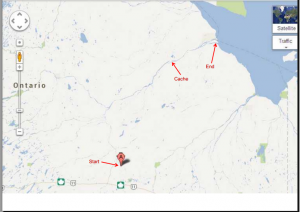 On May 31st, one day before an epic two week wilderness Canoe voyage in Northern Ontario, Geocaching.com username Stormgren-X announced his intention (along with a friend) to be the first Geocacher to arrive and ground zero, and look for the world's oldest unfound cache, 4.5lb Walleye, (placed June 23rd, 2001) in the Groundspeak forums. And with this announcement he also stated that he would be using a SPOT tracking device, and that you can track their progress online.When turned on, this device updates their location every 10 minutes.

Although we at Opencaching North America tweeted about this on Twitter, and posted about it on Google+, we did not plan on doing a blog post until after this cache attempt happened. But then we got to thinking why not get word out to as many people a couple days before they arrive at the cache site, and additionally, it's going to be pretty hard to secure an interview with Stormgren-X when the trip is over! He is going to be inundated with requests for comments, not only by the Geocaching community, maybe even the mainstream media. And we're quite certain that Latitude 47, The Geocaching.com offficial blog, is going to want to do a feature on the trip. After all, the 4.5lb Walleye cache is listed on their website only.
Stormgren-X and friend pushed off from N 50 05.251 W 084 09.920, on the Kabinakagami River, approximately 50 Km. Northwest of Hearst, Ontario, at 10:00 AM on Saturday, June 1st. Their destination is The Village of Fort Albany, Ontario on the Albany River, near it's confluence with James Bay (of the Arctic Ocean), approximately 400 Km. away. They traveled north on the Kabinakagami, then the larger Kenogami River, before turning east on the even larger Albany River. Here is excellent blog post from a gentlemen from Hamilton, Ontario who took the same trip in 1983. The blog post itself was written in 2008, however. As far I can tell, they may have pushed off from the exact same spot.
The early stages of the 2013 trip were not without incident though. Stormgren-X did not say which particular SPOT device he owns, but it is one of the models that does allow him to insert short text messages with the device. Those of us following along on the website found a custom message, as they're called, went out about 10:00 AM on Sunday June 2nd that they were experiencing bad weather. They set up a campsite for the whole day, and did not shove off again until Monday morning, June 3rd. A Canadian cacher closely following along and commenting to the Groundspeak forum thread found a video online suggesting that it snowed in Hearst, Ontario on Sunday. But they have had excellent weather since, and should continue to for the bulk of the trip.
Their "weather day off" was in the vicinity of the abandoned Hudson Bay Company settlement of Mammamattawa but you can see by clicking on that link that this settlement, at the confluence of four rivers, is still used by the Constance Lake First Nation (although not inhabited year-round). Despite this, there appears to be an unmanned weather station nearby, and you can look up the Mammamattawa Weather Forecast or alternatively, you can look up the Fort Albany Weather Forecast.
This Blog post was posted around 6:30 PM Eastern time on Wednesday, June 5th. By estimates of most Geocachers who are following along, they will reach the 4.5lb Walleye cache location Friday or Saturday. It does appear Stormgren-X does have the ability to send a message from the field whether the search is successful or not. He has stated that he will log a DNF if the cache is not present, he is not going to replace the container and claim a find. There has been much speculation over the years that the cache may have been washed away in the annual Spring floods, or eaten for dinner by a Black Bear or Moose! Lets hope that it's still there. This Blog post will be updated when his success or failure is reported, and of course we hope to be one of the lucky ones to have a few words with him after the trip.