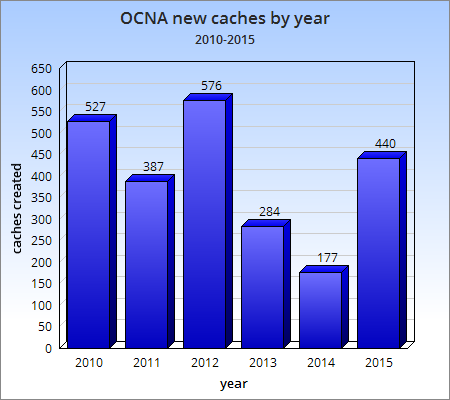 ---
On December 11th, 2014, this blog reported that there was a noticeable decline in new cache placements in most (but not all) Countries in the world in 2014 vs. 2013. This was using Geocaching.com numbers (as given by project-gc.com), because lets face it, they probably have a 95% worldwide market share of Geocaching listings. Well, those numbers were down again in 2015, and that's from the bad 2014 numbers! Just as an example, the numbers for the United States were:
2013: 211,986 new caches
2014: 161,659 new caches, down 24% from 2013
2015: 149,986 new caches down, 7% from 2014
You can see from our previously linked to blog post from Decemember 2014, that we too at OCNA were feeling this trend, with 2014 being the worst year of our existence, as defined by new cache placements. Well, we decided to buck the trend in 2015, and in a big way, per the bar graph. We had our 3rd best year, with 440 new caches published! And we really blew up in Canada, as 77 of those caches were located there, as opposed to only 4 in 2014.  We attribute this 149% increase to gaining quite a few enthusiastic new users who created a lot of caches, by our standards. Some, but certainly not all of them coming over from Garmin's opencaching.com site, which was on life support for a couple of years, and finally passed away in August, 2015. We also had our 2nd annual site run contest running the entire month of August, that certainly helped as well. We plan on having a third annual contest in August, 2016, and who knows, maybe more contests.
We thank all our users for helping us to buck the trend. Please help us to do it again in 2016!!