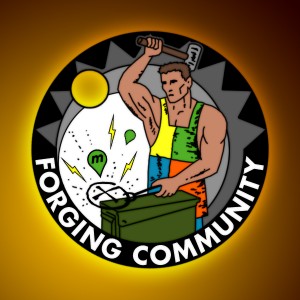 Forging Community in Rome is a Geocaching event listed on our site coming up on Friday, October 16th in Rome, Georgia. This is a pre-event (unofficial) for the annual Going Caching Mega Event, now in it's 5th year, and it's 2nd consecutive at Ridge Ferry Park in Rome. This interactive Mega has a Renaissance theme this year. You'll notice from the Forging Community pathtag artwork here you see both Munzee and Geocaching logo's. This is in fact a tri-listed event for Geocaching (our site), Munzee and Eventzee, which is a less than a year old photo scavenger hunt app brought to you by The team at Munzee.com. If you're not familiar with Eventzee, you can read more about it here. So at this event, you can expect to find temporary OCNA caches, event (temporary) Munzees with a badge for the event, and an Eventzee scavenger hunt. Another integral part of this is tri-event is a food and donation drive for the Action Ministries Rome that is the local food bank for the Rome Georgia area. For every 5 food items or $5 donated you will receive one of the Forging Community pathtags. The goal is to give back to the community that is hosting their fun that weekend. We sent a few questions to obxgeek, AKA Rob, who hails from Northern Virginia, about this tri-event.
OCNA: What makes you an obxgeek? How often do you like to visit? Do you own property there?
Rob: The OBX is short for the Outer Banks of North Carolina. My inlaws own a house in Kill Devil Hills that we try to get to as often as we can. At some point in the future our plans are to retire there. As for the geek portion I have been into technology since I was a kid. I got my ham radio license when I was 14 and became interested in packet radio. That was in the early 90's when the internet was still text only. I moved on to the internet, networking and computers in general. These days I do tech as a full time job managing a super computing cluster for a local biomedical non-profit as well as their large storage systems with a few petabytes of data (1000's of Terabytes). So hunting tupperware in the woods with millions of dollars of equipment fits right in.
OCNA: I see from the Geocaching.com profile you have hosted many events near Mega events outside your home area in the past?
Rob: I have done a few. There was a fun flashmob with the NoVAGO banner at the Going Caching Mega last year. I also had the Forging Community event at Geowoodstock 13 that went over like crazy. There were over 500 attend logs for the event. I also hosted 3 events while on the way to and from Block Party this year. I love to collect new states that I have hosted events in. It is a great way to meet locals and get inside tips on local caching. The one I hosted in Spokane before block party at the Cache Advance Cache Cave gave us lots of great intel while we were going after some really old caches in Idaho the following day. It also helped with the Tricities geocoin challenge. In general if I know I am going to a new place with a reliable itinerary far enough ahead of time I will try to host an event there. I have hosted events in 11 different states and one other country so far. I have attended events in 15 states and that one other country.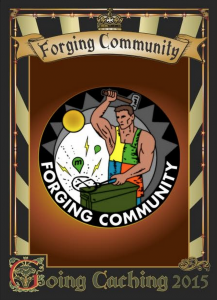 OCNA: It looks like this is the 2nd Forging Community event, you having held a combined Geocaching/Munzee event in May near GeoWoodstock XIII in Maryland. You've chosen to not list this one on Geocaching.com?
Rob: We were going to have a tri-listed event in May to include Open Caching NA but I can admit that time got away from me with it and I ran out of time to come up with a cool tie in for the OC event and didn't get it published in time. This time from the start the goal was to have the tri-listed event but due the nature of the Going Caching Mega events there is a blackout in the Rome area from Thursday through Sunday for any other events not hosted by the mega. So that event was archived before it was even published. The positive side is with not having to deal with the Geocaching.com guidelines, we were able to work with the Going Caching Crew and they are allowing us to have this Forging Community event right in the park adjacent to one of their events so people can come early, browse the vendors, interact and not have to go to an out of the way place for the event.
OCNA: In addition to the idea of GPS based games coexisting, the donations to local charities are a major factor for these events?
Rob: I personally think that #coexisting (I have to give credit to the Space Coast Geocaching Store for coining this hashtag) among the games is important as it is a big world with lots of room to play. That said all the games need to #coexist with the communities we play in. Some localities have had great experiences with caching and others not so great. So if we can have a very tangible way that we are giving back to their community it goes a long way to creating goodwill towards all geolocation games. Fortunately Open Caching NA as well as Munzee have been great supporters of this kind of community outreach. CoachV stood there on the tailgate back in May helping me toss canned goods up into the truck. The Open Caching team has been great to work with to get the word out about this event.
OCNA: Believe it or not, the OCNA Admins have kicked around the idea of a #coexist event combining an event listed on our site with a Munzee event. Obviously you think Munzee will be the major draw for this event?
Rob: In this case I think that the number of people that cache in general will be the largest population. I think that we will have cachers that munzee followed by cachers that use more than one listing site for their hunting. But exposing people to other options that are out there can only give them more chances to get out and find things. I think that it is easier for people on the internet to be negative about other games and it is much harder when you are all together talking, joking, telling tall tales and having fun to forget that we all just play to have fun. I think it would be a great idea to have more events that bring people together.
OCNA: We didn't think of the idea of having an Eventzee event in the mix though. We see you had one in Maryland as well. Are they relatively easy to set up?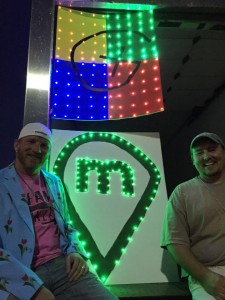 Rob: The eventzee photo hunts are a great experience based on the creativity of the host. Because there is nothing to hide the sky is kinda the limit for these. The fact that it does require a smart phone and an active internet connection to play limits them from being to far off the beaten path but in the case of urban events not needing to hide something and worry about it going missing is great. They also dovetail with other events really well. The eventzee clues for this event will go live Wednesday night at the first event and can be completed throughout the weekend and some of them may not be able to be completed until certain times because for example one of them is to take a selfie with one of the character for the event named Neice. She is one of the crew members and her story is that she welcomes the cachers to Rome. That character will be out Thursday morning for a flash mob and then probably not again until during the day Saturday. So that one will take a little planning. Another one involves getting as many people on a park bench as you can stack, weave, lift or otherwise get off the ground. That could be completed any time but the largest group of people that find the best bench will have the best chance at getting more points for the hunt.
From a setup stand point working with the Eventzee team is very easy and once you have ordered it and receive your login info it is just a matter of logging into a web page where you create the event giving it a name, go live time and location info. You then create the clues, usually about 20 and give them a name, description and base point value. After that there is an event QR to print out and bring to the event so people can "join" into the event. Once they join they can see the clues and start submitting photos for them. As the host you have another tab on the web page for approving the photos. It will show you all the waiting photos and you can approve or deny them depending on if they meet the clue. There is also an option to change the points given for the clue for the particular submission. Once the event is done you deactivate it so no more submissions can be made, finish approving any clues that are outstanding and you have a leader board showing who got the most points. There is also a gallery of all the approved photos that anyone can look at to see what other people have done for the clues. All of the web pages work on a mobile device so you can approve photos right from a smart phone.
OCNA: Do you plan to keep hosting these events? If you do, that's a lot of Pathtags to give out! Would you like to see other Geocachers copy the concept, be it called "Forging Community", or something else?
Rob: There were a great group of people who helped support the first one and donated to the "startup" costs for that event to get the path tags minted and we overestimated a bit based on the expected attendance at Geowoodstock so the plan is to host events until the tags run out. I can't thank Paddleaway, Ledaekim, BajaClan, Rufnredy, TazScouter, WayTooFar, CalvertCachers, and Slaugy for their donations to the production costs so that everything that is collected at the events could be donated to the charitable organizations. We didn't plan on having follow up events but as long as there are tags left we can keep hosting them and giving back to even more communities.
If another cacher would like to copy the concept I would welcome it. It can be hard to stay within the letter of the guidelines at times but as long as you do there is the opportunity to do great things for your community.
---