---
We did tell you in our last post (in not so many words) that OpenCaching North America considers itself well connected in the Geocaching Twittersphere, didn't we? A couple weeks ago, we stumbled on the new Twitter account (created in Mid-February) of a new face on the Geocaching Vlogging scene, Geocaching Kaity. We were immediately impressed by her intro video, which is embedded above, and asked her if she would take some time out of her busy schedule for an interview, to which she agreed.
OCNA Blog: Where are you from, when did you start Geocaching, and how did you hear about it?
Kaity: I am from good ole' Georgia! My dad actually introduced me to geocaching around 2007 when I was in middle school.  He just bought a GPS to use during his deployment in Iraq and needed to test it somehow.  He discovered Geocaching on the internet and that was the beginning of all our fun adventures! I didn't start my own Geocaching account until 2012 when I had a lot of free time with my friends.
OCNA Blog: So if we do the math correctly, that would put you in your early 20's now? Are you in College?
Kaity: I am currently in my 3rd year at Columbus State University.
OCNA Blog: And in fact, you finally started the YouTube Channel for a school project?
Kaity: I started the Geocaching Kaity YouTube Channel for my Interactive Media class. We are learning how to produce videos and create a following on social media. I've always wanted to start making videos for YouTube but never fully committed. I'm enjoying it so much I will definitely continue after the class is over!
OCNA Blog: There are many Geocaching Vloggers out there, were you inspired by them? Any favorites amongst them?
Kaity: I just recently discovered the world of geocaching vloggers and they all inspire me! I love seeing people geocache in different locations and everyone has a unique style. I especially love the Geocaching Vlogger's energy in all his videos!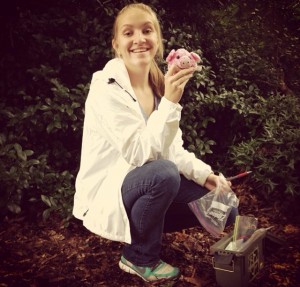 OCNA Blog: In your intro video, you show zip lining, skydiving and white water rafting. Have you done a lot of any of them? Any favorites there?
Kaity: Out of all three, I've gone white water rafting the most. I live in Georgia and am only a few hours away from some really awesome rivers to white water raft on. As far as the zip lining and skydiving, they were more like the once in a lifetime bucket list type of experience. Although, if I get the chance I would definitely do it again!
OCNA Blog: Many Vloggers often do "selfie" videos, but it looks like you're always out with other people who can do some of the filming?
Kaity: I've done some videos by myself but it is much harder. My family has been a big help when it comes to filming. (And it's much more fun to geocache with people!)
OCNA Blog: And what is your equipment you use to make the videos?
Kaity: I use a Sony HDR-CX260 and edit on Final Cut Pro X.
OCNA Blog: For someone with under 300 finds, it looks like you've cached in quite a few places!
Kaity: I love to travel and explore new places and geocaching has helped me do that! I travel a lot to visit family and I'm also on the cross country and track team at CSU so that has taken me to lots of places too. Whenever I am in a new place I might not have a lot of time for geocaching but I usually try and get one. One day I hope to find a geocache in each state!
OCNA Blog: Any memorable finds, or all time favorite caches?
Kaity: One of my favorite geocaches is not too unique in itself, but it was getting there that was fun. It was a regular sized ammo can but it was on an island in the middle of a lake. My dad and I rented a paddle boat and it took FOREVER to get to the island. We found the geocache pretty quick and paddled back to shore. Now that I think about it, all my favorite geocaches were fun because I always say that the hunt it just as much fun as the find.
---
Thanks to Kaity for the interview! We're sure that she would be thrilled if you subscribed to her YouTube  channel, as well as following her on Twitter. The videos are very well done, as you might expect being made for a University Interactive Media class. Below is "Persistent Geocaching", her latest video uploaded to YouTube as of the date of this post.