---
In our last blog post about the Sideling Hill cut on I-68, we were about 35 miles from the site of GeoWoodstock XIII in Boonsboro, Maryland, and we're inching closer! Above is a view of Hancock, Maryland from U.S. 22 (photo by Andrew Bossi), which is about 6 miles east of the cut, and about 30 miles from GW. Are you bringing a bicycle to GW? (You can rent one too); then Hancock is the place to be! If you don't believe us, note that there is an official GW Cycling "after event" (created by the GW XII committee), On Sunday Morning, May 24th in Hancock.
About Hancock: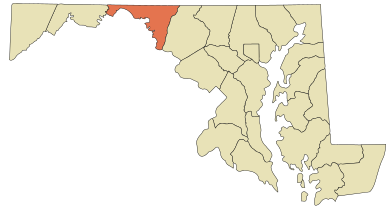 Hancock is a very small Town (Population 1,545 in the 2010 Census), and sits in a very unique location; at the narrowest point of Maryland. How narrow is it? A mere 1.8 miles from the Pennsylvania border to the West Virginia border! This is due to a bend in The Potomac River, which separates West Virginia from Maryland, and the location of Hancock in this map of Maryland, with Washington County highlighted in red, should be obvious.
Why Hancock for Cycling?
Because Hancock is located at the approximate mid point of the 22.5 mile long paved Western Maryland Rail Trail, which closely parallels the 184.5 mile long gravel C&O Canal Towpath (properly known as The Chesapeake & Ohio Canal National Historical Park) through that narrow section of Maryland. Although many Geocachers love Cycling, and wouldn't mind riding the C&O Canal trail, it should be noted that it is administered by The National Parks Service, and Geocaching is not allowed. There is a notable exception though; an Earthcache has been allowed on The C&O about 2 miles SW of downtown Hancock. The Western Maryland Rail Trail has many caches, but not a .1 mile apart "power trail". And note that Hancock is a Geocaching friendly Town; The Town itself owns 7 Geocaches. And C&O Bicycle (a shop in town) hosts a Gadget Cache that has 131 favorites points on Geocaching.com as of press time. Finally, a special shout out to the only OCNA cache in the greater Hancock area, a virtual: WMRT – Railroad Siding and Coal Trestle, owned by cycleangela, the same cacher who owns the Town Hill Overlook virtual featured on this blog a couple weeks ago.
More about C&O Bicycle (the shop):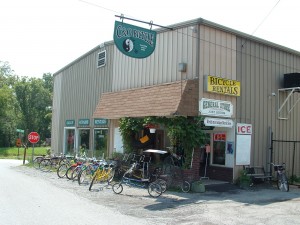 C&O Bicycle, pictured on the left, is located at 9 South Pennsylvania Avenue in Hancock. The owners are Dennis and Judy Hudson, and they have allowed us use of the images of their premises and The WMRT in this post. They host this WVTim Gadget Cache, and is surely the "bicycle rental shop and convenience store nearby" referenced on the GW Bikers Ride Again event page on Geocaching.com. We're sure the GW Committee is forbidden from naming them or posting a link to their website on that cache page, but that's OK, we will; we're "Open" after all. 🙂 They offer  bicycle rentals, repairs, and sales, and have a General store that sells snacks, drinks, or necessary supplies needed before hitting the trails. And are you perhaps looking for inexpensive lodging for GW? They have that too! Their bunkhouse is a 16 bed screened in building; you need bring only your sleeping bag and a pillow. They provide hot showers, a camp pad for your bunk, towels and soap. There is a grill for your use if you like. The cost is only $10 a night for adults, or $5 a night for children 12 and under. Below is a thumbnail image gallery of the bunkhouse, click any image to enlarge.