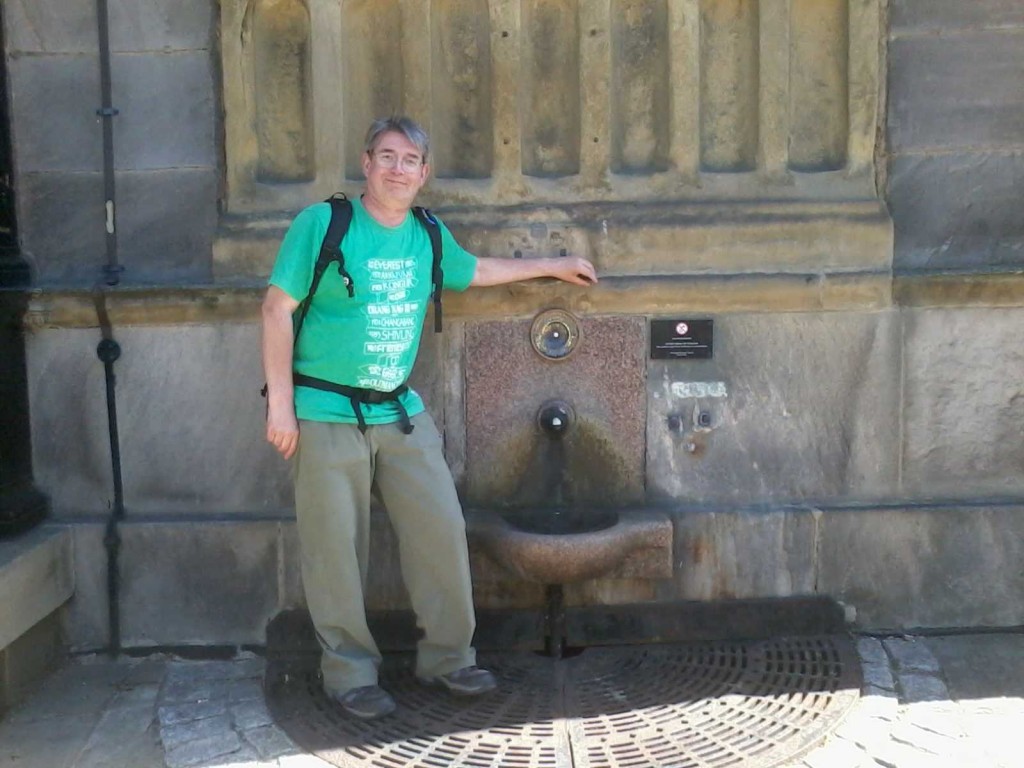 ---
Many of our readers may remember when we announced our TravelFleas (Now GeoFleaz) Holiday gift certificate contest winner in early December, 2014, we noted that our winner would make a good interview candidate. That winner, Bangkok_Ian, is a very well-traveled Geocacher from Foxwood, England, a suburb of York. It took a couple of months, but we finally got that done, and it is a good interview. Read on!
OCNA Blog: In our blog post  announcing you as our winner, you mentioned to us that you took on the handle Bangkok_Ian because you lived and worked in Bangkok, Thailand for 10 years. What did you do for a living there, and how did that job opportunity come up for you? Did you enjoy living there for those 10 years?
Ian: I'm originally from the UK and moved to Bangkok in 1999. I went there originally to teach outdoor pursuits. However, I ended up teaching English for the British Council. I loved Thailand, not Bangkok so much: too hot and busy. I did like the mountains on the Burmese border and the countryside around Chiang Mai in the north.
OCNA Blog: From reading your blog, we see you returned to England in 2009. What have you been doing for a living since your return?
Ian: I've continued teaching English and have begun online teaching and marking tests for the British Council. I'm also training teachers to teach English as a foreign language.
OCNA Blog: You also state on your blog that you like to Travel abroad, and, depending on the definition, have visited over 70 Countries. Any favorites? Any that are high on your priority list for a future first time visit?
Ian: That's right Jim, I love to travel. I don't know how many I've been to but high on my list of favourites are New Zealand and Bhutan. Both have mountains aplenty and low populations; lots of space to explore and very beautiful. I haven't yet visited the USA, so that is on my list. It's so big I don't know where would be best to begin though.
OCNA Blog: We see you have climbed many mountains. How many, and again, according to the definition, in how many different Countries? Do you log them on Peakbagger or Peakery, or other such websites?
Ian: I do love a good mountain adventure and I always try to 'bag' the highest peak in any country I'm visiting or living in. I've climbed the highest mountain in: The Czech Republic, England, Scotland, Wales, Thailand, Germany, Spain, Tanzania and Malaysia. I keep a record of ascents of mountains over 3000 feet in Scotland (The Munros) and The Wainwrights in The English Lake District (A list of peaks over 1000 feet). My biggest mountains though were in the Himalayas, Nepal, Bhutan and Yunnan province in South West China. Nothing really high but some over 20000 feet.
OCNA Blog: Any favorite ascents? Any ascents on the "bucket list", so to speak?
Ian: My favourite ascent was probably Mount Chomolhari in Bhutan. I climbed this during a 4 week expedition in 1995. Climbing is now prohibited in Bhutan and permission is no longer granted for expeditions, so obviously this one was special. As to the future I'd love to climb some of the big volcanoes in South America in the Chilean Andes.
OCNA Blog: Are you working on any Mountaineering "challenges"? Such as all the 3,000 footers in Scotland, or the high points of all the Counties in England?
Ian: As I mentioned earlier I'm gradually ticking off the 3000 footers in Scotland. Trouble is some of them are just boring lumps of rock, others are miles from civilisation and need major logistic planning and that most precious thing – time.
OCNA Blog: You joined Geocaching.com in June, 2012. How did you first hear about the hobby?
Ian: My eldest daughter was introduced to the hobby that month by her guide leader and told me about it on her return from her first caching trip. I was intrigued and tried it a few days later.
OCNA Blog: Did you start out with a smartphone app, or did you already have a handheld GPS Unit?
Ian: Funnily enough as an outdoors pursuits instructor I didn't have a GPS unit. I was a staunch supporter of map and compass. I reasoned that if there was no battery to run down I'd never get lost. I remember a Nepalese mountain (Kala Pattar) where all the new-fangled digital cameras wouldn't work due to cold making the batteries useless. My ancient Minolta worked fine and I took all the summit pics. Because I didn't have a GPS I started using my smartphone. Later on I bought a Magellan Explorist GC. I still prefer the phone though, because I always forget to load caches for places I'm going to.
OCNA Blog: Have you found any Mountaintop (or "near Mountaintop") caches since you started, even if they were virtuals or EarthCaches?
Ian: I've found caches on mountain tops in Thailand, England, Scotland, Germany and Switzerland. I have my sights on a virtual at the top of the highest peak in Wales. The German one was special because it was at the highest point of Germany – The Zugspitze. The Thai cache was also at the summit of Thailand's highest peak, no snow though! My absolute favourite though was on The Schiltorn in Switzerland. James Bond 007 "On Her Majesty's Secret Service" was filmed here. Looking out from the summit you can see the North Face of the Eiger too. The Eiger looks a bit like El Capitan, but with a covering of snow and ice.
OCNA Blog: We see you've got around to finding caches in 4 Countries besides the UK since you've started Caching. Which Country or Countries you've previously visited would you most like to find caches in?
Ian: I've cached in The UK, Germany, Austria, Switzerland and Thailand. I'd love to find a cache in every country I travel to in future, so far that's worked out other than a DNF in Dubai. Of the countries I travelled to before I think I'd like to find a cache in Bhutan. There must be very few cachers with the Bhutanese flag on their profiles.
OCNA Blog: What are your temperature extremes while out Geocaching (i.e. hottest find, coldest find)?
Ian: Extremes of temperature is an interesting statistic. I guess it ranges from 38 degrees centigrade in Thailand to minus 5 centigrade In Switzerland. Oh, and about 42 degrees C in Dubai but that was a DNF. Does that count?
OCNA Blog: With all the travel you've done, are you disappointed you didn't hear about Geocaching until after it existed for over 12 years?
Ian: Yeah, it hurts. If I had known about Geocaching when I was in Thailand I'd be close to the top of the league for variety of countries cached in. I can remember times at airports, railways station and boring hotels around the world that would have been livened up tremendously if I'd known then. Oh well! I'll just have to revisit all those places, won't I?
---
We thank Bangkok_Ian (link to Geocaching.com profile) for taking the time for the interview! That was the most questions we have asked an interviewee to date. This interview will also tie in nicely with our next blog post, which we can tell you will be about U.S. State Highpoints and Geocaching. As previously mentioned, Ian has a personal blog, and you can follow him on Twitter. Below is a thumbnail gallery of pictures he has provided of his Geocaching and Mountaineering adventures; click any to view full size.