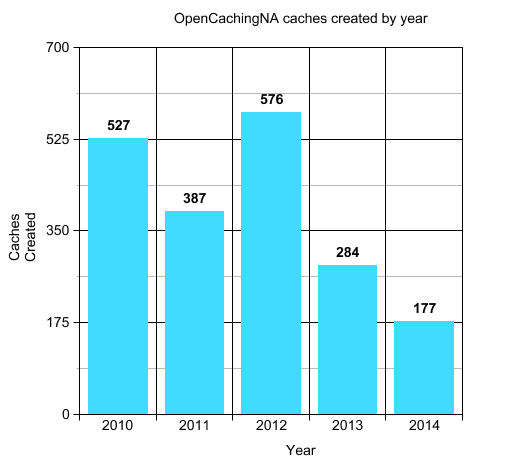 ---
That depends on how you define "on the decline".  If it were defined as the number of new caches created by year, we're afraid the answer is yes. Here you see a bar graph of caches created by year on our website. Note that caches created doesn't necessarily mean all of them were published, but 98%+ of them were. Keep in mind our site was launched in mid-August 2010, so there was quite a bit of interest in the new website to have 527 caches created in just 4 1/2 months. Then we had a somewhat unexplained decline in 2011, and we peaked in 2012. You can see where the numbers have gone from there. It's not just us though. With 3 weeks left in 2014, new caches hidden in The United States in 2014 are down 23% from their 2013 levels on Geocaching.com, as well as being down in most Countries in the world that are considered traditional hotbeds of Geocaching activity. However, there are a few Countries that are exceptions to this overall decline in caches hidden, and there is some good news regarding the number of new Geocachers, and the overall number of caches being found.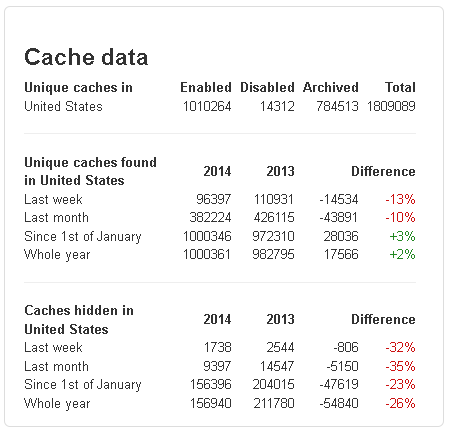 Geocaching.com most likely would not release a similar bar graph of caches hidden by year, and most certainly not to the blog for a Geocaching website they consider to be a competitor, although we are obviously small potato's compared to them. But using the website Project-GC.com, one of their "authorized API partners", you can compare the number of new caches hidden in The United States (or any other Country) in 2014 vs. 2013, a screen shot of which we see here. We find it hard to believe this isn't the first year there has ever been a decline in the number of new caches hidden since the inception of Geocaching in 2000. And you can see the November and December numbers are down even more, over 30% apiece.
And it's not just in The United States
As far as North America goes (numbers in which we obviously take great interest here at OCNA), new caches hidden on Geocaching.com are down 22% from their 2013 levels in Canada, and a whopping 45% in Mexico. Numbers are down in some other "big name" Geocaching Countries as well:

| Country | % Decline caches hidden 2014 vs. 2013 |
| --- | --- |
| United Kingdom | -16% |
| South Africa | -23% |
| Germany | -9% |
| Australia | -18% |
| New Zealand | -13% |
| Japan | -7% |
Keeping in mind that, in order, the Countries with the most caches hidden on Geocaching.com are The United States, Germany, Canada, The United Kingdom, and Sweden; the hidden numbers are down in 4 of the top 5. Data per Project-GC.com, 12/9/2014.
The good news; numbers still climbing in some emerging Geocaching Countries
The number of hidden caches on Geocaching.com is not taking a nosedive everywhere, including in Sweden, the Country with the 5th most caches hidden. Again, data per Project-GC.com, 12/9/2014:

| Country | % Increase caches hidden 2014 vs. 2013 |
| --- | --- |
| Czech Republic | +25% |
| France | +54% |
| Slovakia | +37% |
| Italy | +19% |
| Sweden | +10% |
More good news; more caches found, more people finding them
Looking again at the Cache Data screen shot above from project-GC.com, you will see that unique caches found in the United States is up in 2014, although only a 3% increase from 2013. Obviously, more people are finding caches than at any time in the history of Geocaching. Geocaching.com has seen just under 3,000,000 of their more than 11,000,000 accounts created in 2014! "Active cachers" in and from the United States as defined by Project-GC.com, and queried 12/9/2014, have shown a 42% increase in 2014 from 2013 levels. We here at OCNA have seen a major spike in accounts created as well; in our a year of OpenCachingNA Analytics blog post, we stated that over 1/3 of our accounts were created in the one year period from May 15th, 2013 to May 15th, 2014. However, the number of finds on our site has remained relatively steady over the years.
Are we sounding the alarm?
For our own website, yes! We must need more contests. 🙂 For Geocaching.com, we find this an unprecedented trend, which will be interesting to watch. Will the number of hidden caches continue to fall in 2015 in the Countries traditionally known as hotbeds of Geocaching activity? Will the number of cache finds, and the number of "active Geocachers" continue to increase? There are over 2.5 million active Geocaches, and only one person in the world has found over 100,000 of them, although 2 other people should easily join that club in 2015. We certainly are not going to run out of caches to find anytime soon! Have you noticed this trend of less new caches being hidden in your area? Feel free to comment to this post. The OCNA blogger most certainly has noticed this in his area, and his email inbox has been quite lonely for months!