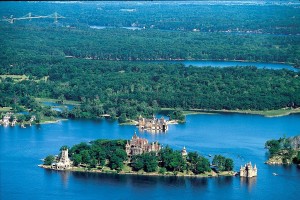 Recently, FTF was claimed on a cache in France that sat for over 12 years before being found. However, the finder of that cache declined to be interviewed by this blog, as he is a Groundspeak volunteer reviewer elsewhere in Europe. We  did not know they were a reviewer before contacting them, and can totally understand that. Since we are the blog for an alternative or indie Geocaching website, we can tell you that in our world (Navicache.com, to be exact), FTF was recently claimed on a virtual cache created on August 10th 2004. The cache is on the somewhat famous Island in the foreground. Do you know where that is?

OK, I give up, where is that Island?
It's Heart Island in The Saint Lawrence River, in the Thousand Islands region of New York and Ontario. Heart Island belongs to New York, and is off the shores of the Village of Alexandria Bay. The green bridge in the extreme upper left hand corner of the aerial view connects the U.S.A to Canada. The Island is obviously only accessible by boat. The main structure you see on the Island is a 6 story, 120 room Rhineland Castle, known as Boldt Castle.
What's the story with this Boldt Castle?
It is named after George C. Boldt, proprietor of the Waldorf-Astoria Hotel in New York City (as well as The Bellevue-Strattford Hotel in Philadelphia). The Castle was to be a gift to his wife Louise Kehrer Boldt, and construction commenced in 1900, and was expected to last 5 years. But in 1904, tragedy struck; Louise Boldt died suddenly of heart failure at the age of 41. A broken hearted George sent a telegraph to the workers on the island ordering them to immediately stop all construction. Basically, the exterior was complete, but the 120 rooms inside were unfinished. It is said that Boldt never visited the island again. The Castle was left to wind, rain, snow, ice and vandals for over 70 years. It wasn't until 1977 that the Thousand Islands Bridge Authority acquired the property, and opened it up to the public. All revenues received are used for restoration and improvement of the Castle and it's adjoining structures, work which continues annually to this day.
So what is the cache? And who is the FTF?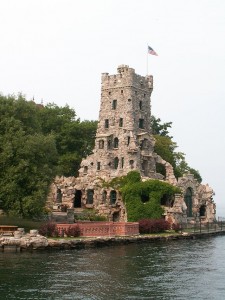 The cache is Boldt Castle Virtual (N012DF), and was created by username Quinn, who just happens to be the person who founded Navicache.com way back in 2001, although he turned daily operations over to his brother, PCMedic, in 2005 or so, who in turn sold Navicache in April 2012. The first finder is none other than the OCNA Blogger, Mr.Yuck, who found it on a 2 day mini vacation to the Thousand Islands region, about 250 miles from his home location. Ignore the fact that he has a different username on Navicache.com, and don't ask, it's a long story. 🙂 As previously mentioned, the cache was created on August 10th, 2004, and sat unfound for exactly 10 years and 3 weeks until about 5:00 PM on August 31st, 2014. And with 7 hours to spare for the OCNA Diversified cacher contest, we might add.  The cache is somewhere in the picture to the left, which is of Alstar tower, one of the auxiliary structures on the Island. The intended purpose of this tower was for the entertainment of guests. There was to be a bowling alley in the basement, and architectural plans for the upper floors show a billiard room, library, bedrooms, cafe, grill and kitchen. The intended target of this virtual cache is not easy to find! It's a very clever idea for a virtual, that had White, er, we mean Mr.Yuck, scratching his head for a few minutes before stumbling on the targeted location for a photo log.
Doesn't this just mean that no one uses Navicache.com?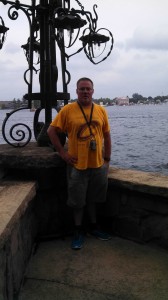 Well, we'd be foolish if we thought that if someone had created a Heart Island or Boldt Castle virtual cache on Geocaching.com before there was a de facto ban placed on that cache type in May 2003, that it would have still sat there unfound all these years. But there are a few factors in play here that combine to make this a restricted access cache. First, Heart Island and Boldt Castle are open to the public for only slightly over 5 months per year, from early May until mid October. This is because even though it is located only at Latitude 44 North, the region experiences short Summers, a cold Fall and Spring, and absolutely brutal Winters! The Tug Hill Plateau, just south of the Thousand Islands region, is historically the snowiest region in the Continental U.S., due to Lake effect snow off of Lake Ontario. Some areas there average 200 inches of snowfall per year. Alexandria Bay averages 111 inches. Secondly, you need a boat to access this cache. There are several Thousand Island boat cruises that leave from many different Villages in the region, on both the American and Canadian sides of the river, and all of them will drop you off at Heart Island, and pick you up later. You can also take a 10 minute "water taxi" ride from Alexandria Bay, which is what your blogger did. Additionally, there are public dock facilities for private pleasure craft, should you own one. The final restricting factor is cost. The OCNA blogger paid $16.75 (a price that will only increase in the future) for a round trip water taxi ride, and Castle admission. You cannot access 95% of Heart Island without paying the admission fee of $8.75.
---
But that cost was well worth it, as was this 10+ year unfound virtual! We highly recommend a trip to The Thousand Islands region, and any one of the many boat cruise tours of the Islands that are available on both the American and Canadian side. Need advice? Contact the blogger, he's taken tours on 4 different cruise lines, and has probably set foot on Heart Island 6 or 7 times. And remember, you can click on any image in this blog post to view it full size in a ligthbox window. They're all quite impressive, save for the one of Mr. Yuck in front of the lamppost.