---
When evidence linked to sadistic murders shows up in Geocache holds, a detective must play the killer's deadly game to catch him.
Above is the promotional video for Finders Keepers, A Thriller/Crime/Mystery Novel in which Geocaching plays a primary role. Author Devon Pollard currently has a Kickstarter.com crowd funding campaign underway to help finance the publishing of the book. He is hoping to raise $7,500 through contributions, and there are only 10 days left as of the date of this blog post! Devon was nice enough to answer some questions for us on this project, including giving Geocachers more detail about how their hobby is involved then is given on the Kickstarter page.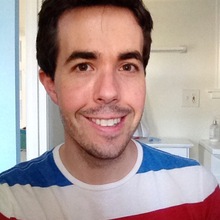 OCNA Blog: What kind of other projects have you worked on as a professional, independent writer?
Devon: I have been hooked on writing ever since I won a Golden Pencil award for best short story back in second grade. I attended the University of Southern California Film School's program for critical studies and screenwriting .   In 2004, my feature length screenplay, Motel Paradise, became a quarter-finalist at the Academy of Motion Picture Arts & Sciences Nichols Competition in Screenwriting.  I have been writing steadily as an independent professional since about 2007, primarily as a blogger/editor, and have written hundreds of entertainment and sports articles and hosted numerous high-profile interviews.  Several of my articles have been referenced and/or linked by online retailers like ESPN.com, SI.com, the Los Angeles Times and The Seattle Times.
While I have been writing for years in other media formats, Finders Keepers is my debut novel. The proliferation of crowd sourcing, eReaders and this current self-publishing renaissance has made it possible for independent writers like myself to take our publishing destiny into our own hands, rather than waiting for the traditional agency/publisher path to develop.
OCNA Blog: When and how did you come up with the concept of working Geocaching into a Thriller/Crime/Mystery Novel?
Devon: Finders Keepers is a special project.  I first became aware of Geocaching almost a decade ago.  A family friend and avid hiker who owned a handheld GPS device told me of a game that blends technology and exploration to create a modern day treasure hunt.   Due to my background in screenwriting, in 2008 I actually began drafting Finders Keepers as a screenplay.  I wrote approximately 70 pages, but ultimately dropped the project when my other work began to pick up speed.   Part of the problem was that I wanted to say more than a screenplay  format would allow. (Screenplays are typically restricted to 90-120 pages).
I always held onto the project, as it had a strong premise and was in a top-selling genre (crime/thriller).  Like many, I didn't actually get an accessible GPS device until I got a smart phone in 2012.  Now that GPS is readily accessible to anyone with a smart phone, the plot seems ripe for the current  times.
OCNA Blog: Seeing as just about all of the readers of this blog are Geocachers, which is not necessarily the case with the viewers of a kickstarter campaign, would it be possible for you to reveal a little more of the plot details than you do there? Without major spoilers, of course.
Devon: The story revolves around a homicide detective that is drawn into the world of geocaching when severed body parts start appearing in difficult-level geocaches within a state park. In that sense, geocaching is as much a central player in the story as the protagonist (detective) /antagonist (killer) relationship.
Geocaching easily lends itself to the crime/thriller genre.  Geocaching itself is about clues, and mystery, and discovery and exploration.  Paralleling the intrigue of geocaching with the mystery of a murder investigation  just seemed like a natural fit.  Another unique element of the plot has to do with the rules of geocaching itself.  I also have a legal background, and I find it fascinating that geocachers have organically established a set of rules that governs the investigation, discovery, removal of objects, and disclosure of geocache sites. Another twist in Finders Keepers occurs when, in processing the crime scene, the detective breaks the internal rules of geocaching, and the killer's retribution for his breaking of the sacred code.
OCNA Blog: We see you hope to produce hard copies of the book, in addition to ebook/reader versions. What is the advantage of having both?
Devon: When the Kickstarter campaign is successful, traditional hard copy books will be published as well as eBooks.  I am a traditionalist. Now, I love technology, don't get me wrong.  But while I have a Kindle, I have a personal nostalgia for curling up with a book in an armchair.  A pledge of $25 or more provides the backer with the experience of feeling the book in his or her hands (armchair not included).  In the early stages of publishing, the eBook will be the version primarily marketed to the general public, in order to generate more funds for traditional hardcopy publishing.

OCNA Blog: With a Kickstarter campaign, you do not receive the funds if your goal is not met. What are your contingency plans for this particular project in the unlikely event the goal is not met?
Devon: As you said, with kickstarter, if the donation goal (here $7,500) is not met, all of the money is returned to the backers and the Finders Keepers campaign gets nothing.  I am currently doing everything in my power to connect with backers and encourage donations to the campaign.  If however my efforts are unsuccessful, I still plan on writing Finders Keepers, as I believe this is the right time and format for the story. That said, development and ultimate publishing of the project will likely occur at a much slower pace, and I likely would be unable to finance the hard-copy publishing of the novel.
Thank you, geocaching community, for your consideration.  For more information about the project, or to express your support, please follow the link below:
https://www.kickstarter.com/projects/1781544146/finders-keepers-a-thriller-mystery-novel
---