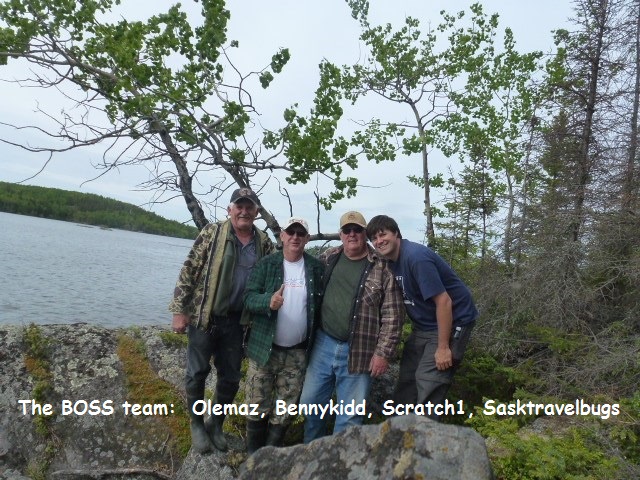 ---
You may remember that just over a year ago, this blog was very interested in the 8 day canoe trip by Stormgren X and his non-Geocaching partner to find the World's (and obviously Canada's) oldest unfound cache. We did 3 blog posts on it, and mentioned it in a fourth. When that cache was found, another cache obviously took it's place as Canada's oldest unfound cache. That would be a virtual cache, SK Extreme 01, on an Island in a Lake in remote Northern Saskatchewan. Placed on July 17, 2002, SK Extreme 01 requires you to "find" a  Canadian Topographical Survey benchmark on this unnamed Island in Brabant Lake. On June 19th, a party of 4 cachers (pictured above with usernames) claimed the FTF on this cache! We contacted the first person to log the cache, sasktravelbugs, and he and another member of the party, Scratch1, were happy to collaborate on some questions we sent them.
OCNA Blog: How was the idea born to make an attempt at this cache? How did the plan come together?
STB/Scratch1: When we were visiting Scratch1 at their winter home in Phoenix, Arizona back in January of 2014, we had a short conversation about SK Extreme 01 which then began our planning of finding this cache. From there we began looking at maps of the area, nearby villages, places where one could rent a boat, the best way to get from the boat dock to GZ, the current ice conditions of the lake, and the condition of the road north of La Ronge when the blacktop turns to gravel.
A month before we actually went for the cache, we considered an ice walk on Brabant Lake in May but Scratch1 said that it would be much too dangerous as the ice had already started to melt and there was no way of telling where the weak spots on the ice were located. In early June, when we were informed that the ice had melted from the lake, we knew it was time to make our final preparations, call together our party, and head north!
OCNA Blog: There were four people in the FTF party. Did you ever consider less, or more? Do you think four people was just about right for this expedition?
STB/Scratch1: Four seemed like a nice round number. Four people fit perfectly into Scratch1's truck and four people in our 16 foot boat was more than ample. Of course we would have liked to take as many people as we could, but we are very happy with the number we chose and elated that this cache was found strictly by Saskatchewan Geocachers. Furthermore, it was hard enough to plan this trip around four people's schedules, so any more than that may have created unwanted problems.
OCNA Blog: The Party left from Saskatoon, Saskatchewan, about 650 Km (that's 400 miles for us American's) from the cache location. Is everyone from that general area, or was it just the best point to meet up?
STB/Scratch1: The rendevous point was indeed Saskatoon. As three of the four geocachers are from the aforementioned city, the fourth cacher Olemaz, who lives south another two hours in Regina, was more than happy to make the extra drive to be a part of the adventure we had planned.
OCNA Blog: And why the decision to make that 650 Km trip. an "all nighter" so to speak, and go for the cache at 9:00 AM?
STB/Scratch1: We knew that the winds on Brabant Lake tended to pick up in the afternoon, so we wanted to make sure we were on that lake very early in the morning. So, we decided to leave the night before and be ready and waiting to secure our rented boat and be on the lake no later that 0930 am. As Scratch1 had been on a fishing trip and driven Highway 102 back in 2007, he knew that the rough gravel road could pose a number of problems for the transport vehicle.
OCNA Blog: And it sounds like, from some of your logs, that there was only about 5 hours of darkness at those northern latitudes near the time of the summer solstice?
STB/Scratch1: On the way up, we grabbed a few caches in the dark but by 0330 am, we put away our flashlights and snagged a few more caches as the sun began to rear its lovely head. What a sunrise it was!
OCNA Blog: Is Saskatchewan Highway 102 an all gravel road from La Ronge to Brabant lake (Population 50), where the cache is? What condition was the road in?
STB/Scratch1: The road was packed smooth gravel with no potholes. No rocks portruded from the road either. Highway 102 was a lot better than some of our paved roads in Saskatchewan!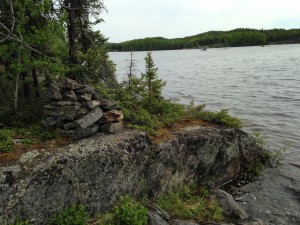 OCNA Blog: The cache is on an island in Brabant Lake. How does one go about renting a boat in that town? Did you ever consider canoes instead?
STB/Scratch1: Because we weren't sure what the lake conditions would be like, we knew that a boat would be safer and quicker than a canoe. We rented from Can-Am Outtfitters in the town of Brabant Lake. The owner was instrumental in letting us know when the ice was off the lake.
OCNA Blog: Approximately how far is the cache from the dock in town, and how long did it take to arrive on the Island?
STB/Scratch1: The cache is about 2 kilometers southeast from town dock. The ride took approximately 11 minutes from dock to GZ.
OCNA Blog: Your find logs make it sound as though it turned out easier than expected to both find a spot to dock the boat, and to get onto the Island?
STB/Scratch1: Finding the benchmark was a lot easier than we were expecting. The rock cairn looked as though it had just been placed yesterday. The benchmark was unobstructed and from where we had docked the boat we were a mere 100 feet from the cache!
OCNA Blog: Sounds like you had quite the celebration after finding the benchmark. How long did you stay on the Island before heading back to town?
STB/Scratch1: Once we found the cache and took a plethora of pictures, we found it very hard to leave the island. We all even kissed the benchmark! There were a lot of high fives, loud whooping and cheers! We all felt like it was a bit of a surreal dream that we were standing at GZ so quickly and that it was so easy to find. We weren't sure what to expect after twelve long years of being placed without it being found.
OCNA Blog: There are FAR more remote caches in Northern Canada that involve week long (or more) Canoe trips. Why do you suppose this one stayed unfound for so long?
STB/Scratch1: Well, the idea of the unknown and not knowing what people are in for possibly kept cachers away from this one. Until we actually found the benchmark, we didn't know what we were in for but we were prepared for anything. As the years ticked on and this cache continued to go unfound, SK Extreme became its own legend, and maybe some people (including us) felt it was unattainable. We could surmise that if it has been unfound for so long, there must be a reason why. But, in the end it was well worth going for this one, mostly because of the journey to GZ and the comraderie it created!
OCNA Blog: We noticed a surprising number of caches along your route. Any favorites there?
STB/Scratch1: Nothing that stands out in terms of hides. However, the location and scenery near the caches made them all special. Crossing white-water rapids and Canadian Shield rock had us wondering if we had magically taken a wrong turn into a difference province!
OCNA Blog: Will the Saskatchewan Roughriders repeat as Grey Cup Champions?
STB/Scratch1: After the whomping we gave the Hamilton Tigercats Sunday, we've got a good shot!
---
Great story! We believe that is the most questions we ever peppered an interviewee with, so we really appreciate sasktravelbugs and Scratch1 answering them. Congratulations on the find! Below is an embedded map of the cache location. Purposely put at the bottom of the post, to avoid that inevitable accidental scrolling of the Google Map instead of the blog post. 🙂