---
Our OCNA blogger recently became aware of Drives Cache Closet, a Geocaching retailer from Mesquite, Texas (suburban Dallas) owned by David and Anita Rives, via a Google Adsense ad on an internet radio station. Because believe it or not, he has never used any kind of adblocker software, actually likes seeing ads, and is known to visit Geocaching websites. A lot. So we poked around their website, asked them if our website could be listed on one of their many other websites, MyGeocaching.com, and asked if they'd like to be interviewed for a Geocaching blog. David was happy to answer some questions for us.
OCNA Blog: The usual first question for everyone, where are you from, when did you start Geocaching, and how did you hear about it?
David: I grew up in Lancaster, Texas and Anita grew up in Dallas. We met while working for Southwestern Bell Telephone. Started geocaching in 2006 after a friend (klce) had needled me for months to try it out. He insisted it was something I would like.
OCNA Blog: Great username, combining your first initial with your last name to form a word. I'm going to guess you came up with, and used that username elsewhere before becoming a Geocacher?
David: You know, I think I used that name on the very first email address I ever had. Please don't ask how long ago that was…
OCNA Blog: When did you open the online store? How do you feel yours is different than some of the other ones out there?
David: We have hidden over 800 caches and spend a lot of time maintaining them.  This really gives us a great edge knowing what works and what doesn't. We don't want to sell anything that doesn't work out there. Our store first opened March 1, 2011. Prior to that date, I had ordered a couple of bulk items and shared them with some friends pretty much at cost (At least I'll stick with that story for now). What started as basically a labor of love, turned in to the idea of having a little online store to keep an old retired guy busy. Before long, it grew to be an everyday job.  But still we aren't in it to necessarily make a living, so we have some of the lowest prices around. I do feel bad sometimes when we go to events and other vendors are out there that depend on their stores to pay the bills. We've even been known to take things off the table so as not to make other sellers look too pricey. It's not really a competition for us. I just love doing it and reading all the positive feedback (and yeah, I read the negative stuff too but that doesn't happen very often).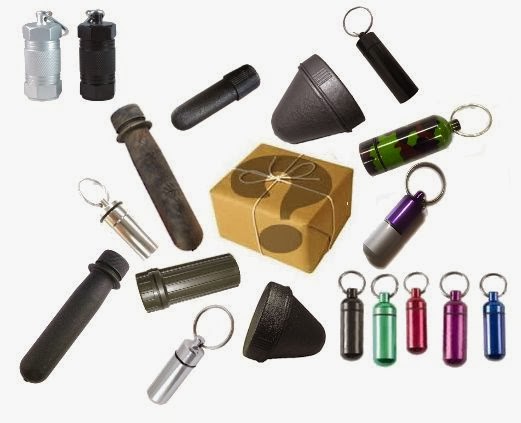 OCNA Blog: All containers come with a custom log sheet?
David: Whenever I bought any geocaching supplies online, I was always impressed when they came with their own log sheets already inside. I wanted to follow that concept and so every container we sell not only has one of our custom log sheets in it, we also offer container specific replacement log sheets online.  Our custom log sheets will be seen by anyone who ever finds that cache and hopefully they will remember us for their own caching needs. We use a very recognizable green colored paper and sometimes even include our QR code for quick scanning.

OCNA Blog: I notice there is a Kokopelli "mascot" on your logo?
David: Have always loved the Southwest and the culture. The Kokopelli was just an iconic symbol that we wanted to build our logo around. Nothing specific about it being the symbol of fertility. <wink>
OCNA Blog: You also have your Bounding Traveling Cache Closet you take to events you attend as a vendor. How many Geocaching events per year do you like to try to attend as a vendor?
David: We attended our first Mega event as a vendor in 2012. I rented a U Haul truck and we sold 6 different items out of the back. It was the 200 free tee shirts and all the give-away bags that drew the crowd. We set up tables at less than half a dozen other events that year, hauling everything around in the back of my Jeep.  If you know Jeeps, you know that isn't much room. Mostly it was crammed full from floor to ceiling, back to front. In 2013, after attending the Texas Challenge Mega event, we bought the trailer and drug it bounding along behind us to Midwest GeoBash in Ohio, Hatfield McCoy GeoTrail Mega event in West Virginia/Kentucky, and the Oklahoma Fall Fest. This year we have a very aggressive road schedule, with events scheduled just about every month. We set up in Paris, Arkansas in January and in February we're heading to Yuma, Arizona for their big event. We have 6 more events on the schedule and that only takes us through the end of the summer. We're hoping to be invited to 2 or 3 more before the year is out.
OCNA Blog: Approximately how many different items do you sell? Any personal favorites?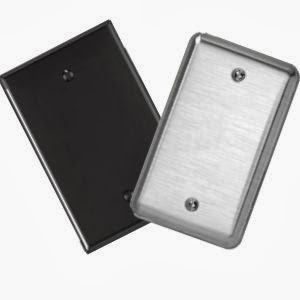 fake switch plate
David: We are constantly adding new items every time I turn around. If I see something that a cacher might need or want, then I think we should be offering it.  In January, we set out with 97 different containers, supplies and accessories.  Of course we have multiple quantities of each one, so we literally tote around thousands of items in the trailer. For the February event, we've added 4 new items, so now we will have 101. But we don't take along everything that we offer online. And we sell some items at events that we don't offer online. Our online store offers 132 different items. Personal favorites? Seems like that changes every time I find something new to add to the store. One of our newest items right now is a mock security camera. Pretty evil hide. I guess my all time favorite is our fake switch plates because I buy all the parts and assemble them. I'm pretty proud of how well they turn out. We used to carry these plastic nanos that were a favorite not only with me, but with our customers too. But they became too costly to make and I had to discontinue them, at least for now.
OCNA Blog: Are you (David) the webmaster? Wrote the code for the site yourself?
David: I am my own webmaster. Our eCommerce site is hosted by Network Solutions, so I have limited coding responsibilities there. However we have other websites that I am the sole author of. MyGeocaching.com –  AnitaJo.com – JFK50eoTrail.com. We are currently in the process of developing a new site called pro-cache.com that will offer high end items for geocaching such as GPS units, other navigation devices, gear, clothing, etc.
OCNA Blog: I think the live webcam, streamed almost daily on weekdays, of David and Anita shipping orders is a unique concept. At least for Geocaching retailers.
David: It's probably not nearly as glamorous as it sounds.  It's a simple webcam on top of one of my monitors and so much of the time all you can see is my big old head.  I do play some pretty cool music though. Since we're pretty much able to pack and ship orders the same or next day at the worst, it's easy to log in and see which order we are currently packing. I know I would log in to another site to watch my order get packaged if they offered it. Plus when we're out on the road and our online shipping is delayed, it helps to be able to look in on us and see how far back your particular order is.
OCNA Blog: On your "about us" page on your website, you mention your Geocaching.com account has a 7 ½+ year streak of finding at least one cache a day. You must have started that streak very early in your caching career!  We'll assume, providing nothing unexpected happens, that you plan to continue that indefinitely?

2/6/14 snapshot; stats will not update
David: We are quite proud of our cache-a-day streak that started on August 26, 2006 after signing up on July 14, 2006. Our longest streak without a find was 4 days.  According to the data available on project-gc.com, we are number 2 in the United States and apparently the number one streak has been broken. Either way, we plan to continue. It's certainly an advantage for us being a two person team and there have been times when I just couldn't get out, so thank goodness Anita doesn't mind going by herself sometimes. Living in Texas, around a big metropolitan area like Dallas gives us plenty of opportunities to cache every day. Although it is getting a little harder every day because we're having to drive so far to get one now. So far means usually 10-15 miles depending on what kind of cache we want that day. This dang Polar Vortex sure isn't making it easy on us!
OCNA Blog: With the Space Coast Geocaching Store, and more recently Cache Advance opening up brick and mortar Geocaching stores, have you thought about this for Drives Cache Closet, be it full-time like SCGS, or part-time like Cache Advance?
David: Well, here's my answer to that question although my wife's answer may be somewhat different. Currently the store is set up in a spare bedroom of our house.  As time goes on and the store grows, it's evident we will eventually run completely out of space. In fact, Anita claims that I'm already spilling over into other places in the house, and she's right. We have a standing joke about taking over the formal living room, but that's all it is, a joke….for now. The trailer bought me a little extra storage space, but what I see for our future is eventually renting out some warehouse space and then as we continue to grow, possible setting up a storefront there. I don't know what time frame that becomes, but without employees and funding, I don't know if you'll ever see us in such a nice place as Dale and Barb have over there on the Space Coast.
---
Thanks to David for the interview, definitely one of our longest! Again, their website is www.drivescachecloset.com, or you can purchase from them in person at many Geocaching Mega events. See the current schedule here. For the Live Webcam of the (almost daily) order shipping process, visit their page on Ustream.com. If you are a member of that website, and follow them, you will receive an email every time the broadcast goes live.