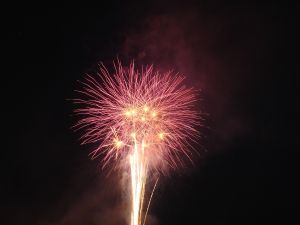 Happy 4th!
Happy 4th of July! Enjoy this public domain fireworks picture, as we're all about public domain things at OCNA, be it the Leatherman Variant Logo, The Geoachers' Creed, or our own new logo. Mr.Yuck had a really, really bad day on Tuesday, July 2nd, with two separate really annoying things happening, so we'll just wish you all a great holiday, and blog about a few assorted odd's and ends here. We have completed our interview with Stormgren-X, he of the epic 9 day canoe trip to be the first to find the (then) world's oldest unfound cache, 4.5lb Walleye. We had and planned to post that this week, but we'll put that one off for a week.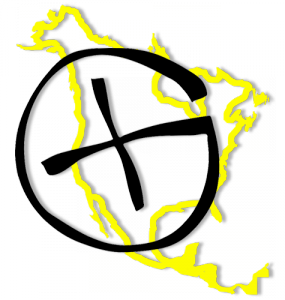 New OCNA Logo
Speaking of our new logo at OpenCaching North America, we have shared that on Twitter, Google+ and Facebook, but we've never mentioned it here on the blog. Of course you've seen it for a couple weeks on the banner on the top of this blog. This is the "unlettered" version, without the text OpenCaching North America. We are very close to finalizing that design. First up? OCNA Pathtags! We will not be selling them ourselves though, they will be available through a little-known and little-used fundraiser program for Geocaching Organizations through coinsand pins.com. Don't worry though, we will not be "raising funds". The proceeds, if you want to call them that, are payable only in pathtags cash, so whenever we earn enough, we will just buy more of our own pathtags, and distribute them to promote our website. Next we will probably try OpenCaching North America T-shirts. We would most likely set the commission at zero to keep the cost to a bare minimum, and no money would be made there, either. It's all about promoting Opencaching North America!
After a slow start, the Travelfleas.com gift certificate contest is going very well; we have many entries. Maybe this blog really does have 500 readers a week, like the Blogger.com statistics tell us! Since you now have a less than 1 in 25 chance of winning, and probably even worse odds by the time the winner is drawn, feel free to go to their website and buy your own. Remember, the contest ends at 7:00 PM Eastern Standard Time, on Wednesday, July 10th. Remember to check your "spam", or "junk" folder should you be the lucky winner, because as previously mentioned, you will be contacted from a Gmail account, more specifically Opencachingnorthamerica at that domain. We will do a short blog post announcing the winner. Be sure to check back for that post next week (assuming the winner responds quickly), and also the interview with Stormgren-X.