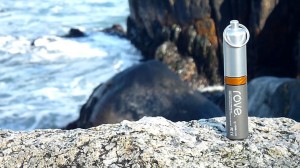 ROVE, shown above, was brought to our attention here at the Opencaching North America blog on April 4th, 2013 via a press release on PRweb.com that came through on a Google news alert for the word Geocaching. ROVE is a GPS accessory that instantly shares trail maps across social networks like Twitter and Facebook. ROVE pulls multiple geocaches from geocaching.com right to your GPS, anywhere there is cellular or WiFi service. Advanced functionality includes tracking distance, time, elevation and speed for accurate trail maps.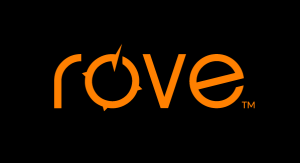 ROVE is manufactured in Atlantic Canada by Sparkyard, Inc., a Dartmouth, Nova Scotia based IT start up company. The company has launched a crowdfunding campaign on Indiegogo to raise money for increasing production (please note per the Indiegogo site that there is an initial short production run, and ROVE can be ordered right now). We at the OCNA blog contacted Janet Wilson, Visual Designer for Sparkyard through their website at www.gorove.com, who was nice enough to set up an interview for us with Jonathan Layes, the inventor of ROVE, and founder of Sparkyard, Inc.

OCNA Blog: Things are happening fast at Sparkyard.When I first saw your press release a week ago, you only offered support for Garmin handhelds, and I see know you have preliminary support for the Magellan Explorist GC and X10 series. (The blogger owns two Magellan's, including the GC). Do you have plans to support Delorme, or even Lowrance?
Jonathan:  At Sparkyard we will be continuing to add support for additional Garmin and Magellan GPS receivers.  As well as adding support for other GPS manufacturers like Delorme and Lowrance, as demand and resources allow. ROVE will continue to evolve to support the needs of GPS users and we plan to add more features in the future.
OCNA Blog: You can download the 25 nearest caches on Geocaching.com by plugging the ROVE into you GPSr's mini USB port. How exactly does this work? Is a smartphone required for this? No special software on the smartphone? 
Jonathan: ROVE requires a smartphone or tablet that has Bluetooth tethering which it wirelessly pairs with. ROVE then uses the phone's WiFi or cellular service to transmit GPS trail map data through the Internet to gorove.com and pulls down multiple local geocaches from geocaching.com to a GPS. Gorove.com uses responsive design so it is easy to use on both mobile and desktop browsers. No Apps or special software is required. ROVE should work with any phone or tablet that has Bluetooth tethering with the Personal Area Network (PAN) profile, not just iPhones.
OCNA Blog: Are the 25 downloads .gpx files that will provide paperless caching for units that support it? 
Jonathan:  We use our own transfer protocol to reduce bandwidth but ROVE does use most of the paperless geocaching information for units that support the data. 
OCNA Blog: The ROVE looks like a pretty rugged little device. 
Jonathan: It is extremely rugged. I know the conditions and locations that ROVE will be used and built it for outdoor use. The case is made of a think anodized aluminum so that the internal electronics are well protected from the elements and bumps. I have young kids who love geocaching with me and wanted to make something that is easy for them to use and I don't have to worry about it breaking.
OCNA Blog: You can use the ROVE to share trail maps via Facebook and Twitter. Can you explain this feature? I assume these maps are hosted on your website, along the lines of the Smartphone apps Runkeeper and Sportstracker. Do you have an example of one of these maps?
Jonathan:Yes, ROVE works much much like those sites without the need for an App. ROVE retrieves the GPS data collected while travelling by foot, bike, kayak, car or any mode of transportation. Then ROVE sends an image of the trail to a social network like Facebook or Twitter. ROVErs have the option to have their trails sent automatically or they can login to their ROVE account and select specific trail maps to share.
The trail maps are stored and displayed on gorove.com using Google Maps and ROVErs will have the option to export their maps to view in Google Earth. We should have map examples live in a couple weeks. In the meantime you can see one of the maps in our video http://youtu.be/vVdscpZlRVs 
Editors note: Excellent, why burn up your smartphone battery using one of those apps when you have ROVE with you? Use that link to bookmark the video, this would be a good place to imbed the official ROVE video in the blog:
OCNA Blog: Can other people download these trail maps into their GPSr?
Jonathan: They currently can't download these trail maps to their GPSr but we have had a number of requests for GPX export and plan to add that feature in the very near future. 
OCNA Blog: I understand you have a campaign at Indiegogo, a crowd funding website.
Jonathan: We are using our Indiegogo campaign as a way for people to order ROVE and to gauge the size of our next production run. It also gives us a way to reward our early backers with rewards like free Premium Membership. 
OCNA Blog: How did you decide on the company name Sparkyard, and the name of the device, ROVE?
Jonathan: As with many names nowadays it often comes down to what domain names are available but I also wanted the names to mean something. Sparkyard is a combination of two concepts spark=ideas and yard=outdoor playground. Sparkyard – Where ideas come to play. ROVE had to reflect the concept of outdoor exploration and be limited in length. I wanted it to be easy for people to type trail map addresses in a web browser.
A very interesting and highly innovative device, we think. ROVE is available as early as June, 2013 at Sparkyard's Indiegogo page. There you see several levels of perks for your contribution, including free lifetime premium memberships, and discounts for buying in quantity if you get together with a few Geocaching friends. Thank you very much to Janet and Jonathan (both of whom star in the official video, by the way) for agreeing to talk with us here at the OCNA blog! 

        ROVE Website:   http://www.gorove.com
ROVE on Facebook:   https://www.facebook.com/sparkyardrove
     ROVE on Twitter:   https://www.twitter.com/sparkyard
EDIT June 11th, 2014: Both the Rove website, and Facebook page seem to have been removed from the internets, and their Twitter hasn't been posted to in almost a year, as of this date. It appears the ROVE device never went into production.