This was not a scheduled blog post. On April 2nd, 2013, someone started a thread in the Geocaching.com forums asking for advice on great Geocaching videos on YouTube, and of course Steve, known as Sven to Geocachers around the world, was one of the first names that came up. Two of the first eight or so posters to the thread had seen some of the videos, but were not aware of Steve's passing on February 4th, 2012. So I figured a tribute post at a blog that was started a little over a year after his death was in order. The photo below is one of his family's favorites from his Geocaching adventures, and was chosen and provided by his Mother (Username: Svensmum), and used with permission. Click to enlarge.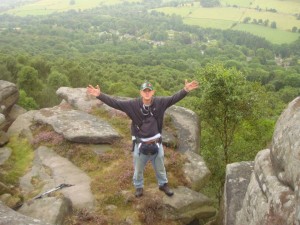 Steve hailed from the East Midlands region of England, joined Geocaching.com on June 2nd, 2011 (Username: Sven&Cup), and started his YouTube channel only 6 days later. The YouTube channel, incidentally, is actually called Everything about Geocaching and his username was Geocachespoilers, but almost everyone referred to it, and still does, as the Geocachespoilers channel. Now if it sounds to you like he started that channel very quickly, with little experience, you would be wrong; Steve was already a YouTube celebrity, having started the Sven's Motorcycle Fun channel in April 2007. Sven's passion was off road biking, or Dirt Biking, as it's called. This blogger especially likes the helmet cam videos, one of his more humorous and popular ones of which is embedded at the bottom of this post. Sven's Motorcycle Fun channel currently has 17,000,000 views, while his Geocachespoilers channel has "only" 3,000,000 views.
Sven's Geocache videos quickly became very popular, and in short order, he was one of the most popular Geocaching Vloggers on YouTube. There was however, controversy. One, possibly two cache owners in England complained that their caches and hiding method were being "given away" via the videos, and The powers that be at Geocaching.com actually banned him, temporarily for 30 days; this was the standard ban for posting "spoilers" to other people's caches. Steve made a video about the banning, as you can probably expect, which you can view on his channel. There's a very happy ending to this story though! Sven received overwhelming worldwide support from the Geocaching community, and  Geocaching.com quickly overturned the ban, and amended their policy on Geocache spoilers on other websites on the Internet. Geocaching.com never officially announced the ban was lifted due to the massive public support, we can only speculate. We do know that Sven's videos became even more popular, one would think from the publicity, and he continued to make them.
Steve's Mother has built a beautiful Memorial Website celebrating his life. Some Geocachers find it awkward to talk about, and never like to dwell on it, but the fact is that Steve took his own life on that day in February, 2012. His family does not like to dwell on that either, but if you dig around the website, there is a page that briefly explains the personal problems he was having, and links to help people having similar problems. What I will link to is the goodbye Steve page on the site that tells about his funeral service, and how you can make a pay pal donation to a trust fund set up for his two children.
There is a Steve Love Memory Caches bookmark list on Geocaching.com, but like many bookmark lists, it seems to be unmaintained, and incomplete. I found others not on that list in Colorado, Ontario, Canada and Spain to name a few. There could be dozens of Sven tribute caches out there. As it says on his gravestone, "a friend to so many people worldwide".